Design
Greenhouses and Potting Sheds
A dedicated outdoor workspace--whether used for nurturing plants or storing tools--can make tending the yard much less of a chore.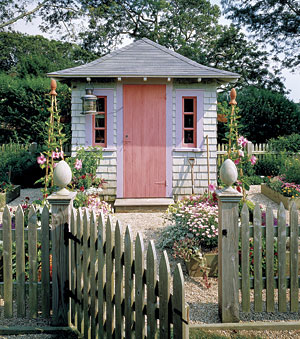 By using small windows in this shed, interior wall space is freed up for shelving, potting benches, and hanging tools, while supplemental lighting improves visibility on overcast days and during evenings. For buildings without electricity, rechargeable, battery-powered lamps or lanterns are affordable lighting options.Brian Vanden Brink
Anyone who spends time gardening or tending a lawn appreciates a dedicated work space—whether it's used for sharpening tools, starting seedlings, or hanging the water hose. Although greenhouses traditionally are for growing plants and potting sheds are for potting up seedlings and storing tools, the lines between the two are often blurred. It's not unusual to find a potting bench in a greenhouse or a sunny, plant-filled windowsill in a potting shed.
Just as often, these two spaces are connected or built close together—and never far from the garden. Greenhouses are bright, humid spaces used for protecting tender plants over winter, propagating new plants, and growing a wider range of plants than possible in a garden. They should be positioned for maximum sun exposure and away from trees to avoid falling branches. Both greenhouses and potting sheds benefit from access to water, whether provided by a spigot or a sink.
Choosing a Greenhouse
Size is the most important factor to consider when choosing a greenhouse. Freestanding greenhouses are available as small as 6 ft. by 8 ft., but most gardeners find that a structure measuring at least 8 ft. by 10 ft. better accommodates plants and people. It's easier to grow into a larger greenhouse than it is to expand a greenhouse when you outgrow your space.
There are numerous styles of greenhouses. Freestanding rectangular or hexagonal greenhouses, lean-to–style greenhouses that attach to a house or garage, and portable greenhouses with just enough room for a few small plants are several choices. Roofs may be peaked, rounded, or domed. Doors may swing or slide open. And windows or roofs may open to improve ventilation.
Greenhouse frames come in a variety of materials. Painted wood is beautiful, but rot-resistant cedar and anodized or enamel-coated aluminum is much easier to maintain. Although most greenhouses still have glass panels, new UV-treated polycarbonate panels are more energy efficient and less susceptible to breakage. Pea gravel is a practical choice for greenhouse flooring. It won't become slick when wet and allows excess water to soak into the soil.

Warming a Greenhouse
Greenhouse heating requirements depend on what you are growing and where the structure is located. Cooler greenhouses are ideal for protecting frost-tender plants and growing cool-season vegetables. Warmer greenhouses are required for starting seedlings or growing tropical plants. Greenhouses in northern regions need a more reliable heat source than those in southern climates. Start by placing a greenhouse in an open, sunny area, with the longest side running east to west to maximize sun exposure. Several large barrels, filled with water and painted black, will absorb heat during the day and radiate that heat at night. Electric, oil, and gas heaters will provide additional warmth and more precise control over temperatures.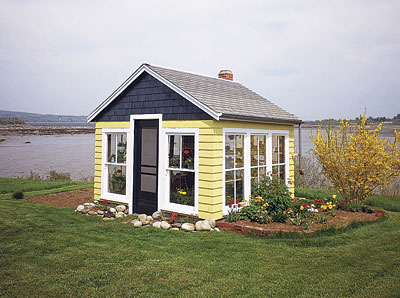 | | |
| --- | --- |
| | |
| A greenhouse can be both decorative and functional. This Victorian-style greenhouse is the highlight of the garden, positioned at a bend in the path where you can't help but notice it as you move into the yard. Allan Mandell | Inside the greenhouse, dry-laid brick floors allow excess water to soak into the ground, while a long counter affords plenty of space for starting seeds and potting up containers. Window shelves are lined with plants, while potting soil and supplies are stashed under the counter. Allan Mandell |
| | |
| --- | --- |
| | |
| A lath house is a shaded structure used for hardening off tender seedlings or growing shade-loving plants like orchids and ferns. A lath house also provides a shaded holding area for nursery plants awaiting a permanent home in the garden. Tim Street-Porter | A translucent roof allows enough light into this potting shed so that it doubles as an unheated greenhouse, sheltering tender plants from winter's cool weather. The top half of the barn-style door can be opened to improve ventilation. Tim Street-Porter |
Making Compost Convenient
Compost bins aren't usually the most attractive garden structures, but to encourage their use, they must be conveniently located near the kitchen. So instead of looking at a pile of decaying leaves and vegetable peels, build an attractive wood or brick bin with a hinged lid that keeps the mess at bay and blends in with your home's architecture. As an alternative, screen less attractive but functional compost bins with an evergreen hedge, fence, or vine-draped trellis. A bin that holds approximately 1 cu. yd. (3 ft. wide by 3 ft. long by 3 ft. high) of materials is the most efficient at converting waste into rich compost.
| | |
| --- | --- |
| | |
| A greenhouse can be built against the south-facing wall of a house for convenient access, as well as for added protection against extreme temperature swings. The house wall shields the greenhouse from harsh northern winds and adds an insulating layer along one side. Tria Giovan | Well-watered plants drip, so it's best to have a permeable greenhouse floor. A 2-in. to 4-in. layer of mulch, pea gravel, or crushed gravel will allow the water to drain and keep the floor from becoming slippery or muddy.davidduncanlivingston.com |
Potting Shed Alternatives
If you don't have space for a freestanding shed for potting up seedlings, stashing gardening tools, or storing pots in winter, simply improvise with what you do have. A garage or basement may have enough space for a table and shelves. A potting bench and hanging wall rack for tools can be tucked under the eaves of a house, garage, or other outbuilding. In a pinch, use an oversized wheelbarrow as a basin for mixing and storing custom potting soils. It can also serve as a portable workstation filled with gardening gear and rolled from one area to the next.
| | |
| --- | --- |
| | |
| This potting shed features enclosed storage for tools, wheelbarrows, and power equipment. A potting bench and staging area are located beneath an attached shelter, part of which is covered in lattice. The lattice offers partial shade for acclimating plants started indoors or in a greenhouse. Saxton Holt/Photo-Botanic | With its fresh coat of white paint, green roof shingles, and black shutters, this strategically placed potting shed is alluring. It's tucked into the woodland edge, just beyond a border, where it's a retreat as well as a place to take a break from gardening. Alan and Linda Detrick |
Lee Anne White is a landscape designer, garden photographer, and writer.