Design
A Fresh Look at the Fridge
Cool new sizes, styles, and accessories show that manufacturers are really thinking outside the (ice)box.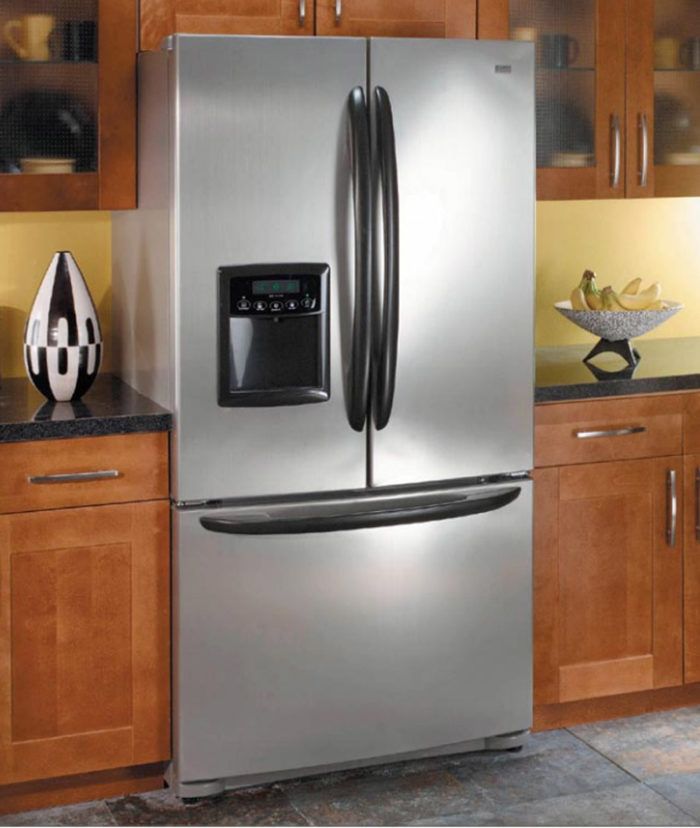 Synopsis: Gone are the days when refrigerators lurked in the corner of your kitchen, sucking up energy and looking about as stylish as, well, a refrigerator box. New styles run the gamut from warmly traditional to super sleek or cheerful retro, and an array of special features speak to every need. Furthermore, today's iceboxes are quieter and more energy-efficient than ever. This article gives you a look at the pros and cons of various options, including door styles and accessories.
Not so long ago, the refrigerator lurked in the corner of every kitchen, an energy hog in basic-but-boring white. As kitchens—and how we use them—change, however, so does the good old fridge.
Today's styles complement any kitchen, from Euro-sleek to restaurant chic, from retro to raised-panel traditional. New models are quieter and more energy-efficient; gone are the days when the fridge accounted for 25 percent of your electric bill. If you haven't shopped for a refrigerator in years, wait until you see the technology and accessories designed to make your life easier and your food last longer.
High-profile or hide-away?
You need not wait until your old fridge dies before replacing it with one that just looks and works better. If style is your priority, your first decision may be whether to buy a model that blends in or stands out. Built-in refrigerators, also known as cabinet-depth, were first offered in the late 1950s by the commercial freezer company Sub-Zero. The beauty of the built-in was its 24-inch depth, which didn't protrude past the front edge of a standard 2-foot-deep kitchen counter. In the past several years, other companies, including Frigidaire, KitchenAid, and Thermador, began offering built-in models, which start at $1,750 and can go as high as $5,700. Most have top-mount compressors that add about a foot to their height.
Without remodeling, you can now get the built-in look for less with freestanding counter-depth models. Among the new side-by-side counter-depth models, Kenmore Elite offers a 21-cubic-foot unit (starting at $2,000), and Frigidaire's Professional Series (starting at $2,300) includes a 22.6-cubic-foot model that claims the same shelf and storage space as a standard 26-cubic-foot unit.
Another hide-away option is undercounter models from companies like Marvel and U-Line. Some resemble dorm-size refrigerators or hotel minibars; others are dedicated beverage centers or wine-storage units. This category of auxiliary refrigeration saves the day when your fullsize model is full and excels at storage at the point of use—by the prep sink, in the pantry, or in the family room. Dallas, Tex., homeowner Richard Slack has an undercounter refrigerator in his outdoor kitchen. "It sits near my barbecue and makes a great bar setup," he says.
Fanny Bolen, an interior designer from Oklahoma City, Okla., loves her own kitchen's Sub-Zero drawers. "I have a big all-refrigerator model plus freezer drawers. Now I wish we had refrigerator drawers, too, because they're so easy to use.
Really out of sight, the Freezerator by Whirlpool Gladiator suits families who buy in bulk or stock up for parties. Starting at $1,000, this model, designed for the garage, tops its 15-cubic-foot freezer with a 6-cubic-foot compartment you switch to refrigerator or freezer, as needed.
Another market segment celebrates refrigerators as kitchen focal points. Here, the design theme drives the choice. Retrostyle models from Heartland and Elmira Stove Works combine vintage exteriors with hightech interiors.
For photos and the pro and cons of refrigerators out on the market today, click the View PDF button below. 
View PDF