Design
How to Cope With a Beautiful Site
Don't force the footprint. Let the surroundings choose the palette, and plan plenty of outdoor rooms.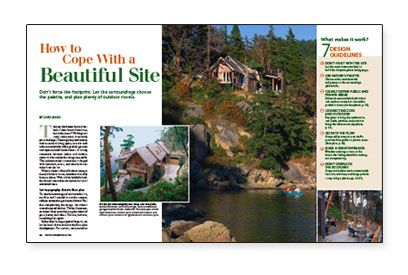 Synopsis: Broken rooflines, broad overhangs, and an earth-bermed garage help this house nestle into its rocky site on Puget Sound. In this whole-house design article, interior and exterior photos, plus a floor plan, illustrate the architect's discussion of making a house look at home on its site.
They say that beauty has its drawbacks. I don't know if that's true, but in the case of Washington's steep, rocky coast, it certainly poses challenges. Seemingly impossible ideas, such as outdoor living space, on a site such as this are achievable with a good design team and open-minded homeowners. A strong connection between indoor and outdoor rooms is what makes this design successful. The indoor/outdoor connection is forged with materials, colors, and structural cues taken from the site.
While architects often talk about trying to marry a house to its site, sometimes we really have no choice. With so little buildable land, this house is more than married to its site; it's embedded there.
Let topography dictate floor plan
To take full advantage of this beautiful site, my firm and I needed to use the steepest, rockiest section that good sense allowed. Further complicating the design, the owners wanted exposed timbers. Timber-frame construction is best served by a regular layout of posts, beams, and rafters. This site, however, is anything but regular.
Rather than forcing a typical footprint, we let the land's features direct the floor-plan development. For starters, we removed as few trees as possible, choosing instead to design around them. Also, the house's low profile complements its surroundings.
Let the floor plan develop
The floor plan that evolved has three different zones: a public zone, a traditional zone, and a private zone. These distant zones contrast in function but also in structure. The irregularly shaped masonry structure (the transitional zone) is flanked by two rectilinear timber-frame structures (the public and private zones).
The masonry form anchors itself to the land by tying into the steep topography, taking on the character of a rock outcrop. The stone walls run from the cliff through the home and back out to the land with little interruption.
The timber-frame structures float above the ground, while the masonry form is embedded in the terrain. This design welcomes cascading decks and patios to ease the transition of rocky sloped site to rigid timber frame.
Let the site choose your palette
Taking cues from the site's natural features is important when laying out the floor plan as well as when choosing which materials, colors, and textures to use. Natural materials with muted colors can reduce a building's visual impact by helping it to blend in with its surroundings.
The abundance of madroña trees is one of the most striking features of this site; their smooth bark can range from a deep orange when young to a vibrant red as they age. This red is echoed in the stain for the wide window trim, but it was serendipity that the color of the Douglas-fir timbers complemented these trees.
For more photos and details, click the View PDF button below:
View PDF