How-To
Weatherizing a Porch
Energy-efficiency expert Bruce Harley give advice on how to insulate an enclosed porch to make it more comfortable.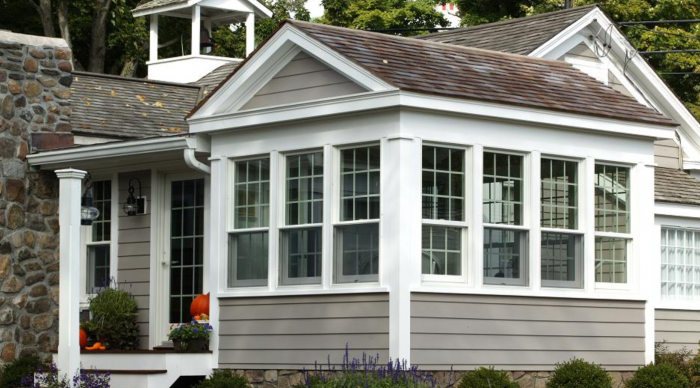 Q:
The previous owners of our house tried unsuccessfully to winterize the outdoor porch, which sits on a pier foundation. How can we winterize the porch properly?
Sarah Bradley, Toronto, None
A:
Bruce Harley, author of Build Like a Pro: Insulate and Weatherize, replies: The trick to weatherizing a porch is to provide not only insulation but also a good air barrier, something that gets missed in many construction projects.
If the siding is in decent shape and you're not planning to replace it, the first step is to strip the space down to the studs, rafters, and joists. That's the easy part. Then choose one of two approaches: spray foam or fiber insulation. You can hire a professional to install spray-in-place foam insulation in the floor, walls, and ceiling. Generally, this will accomplish the air barrier and insulation in one easy step. I prefer to spray foam in the rafters; regardless of whether there's a cathedral ceiling or a flat ceiling, this is an easy way to establish a continuous air barrier. If possible, vent the roof with vent chutes against the roof sheathing.
After spraying the underside of the floor, cover the bottom of the joists with 3/8-in. plywood or carefully stapled housewrap. Spray as much foam as possible into the walls (typically about R-15 in a 2×4 wall), and insulate the ceiling and floor to an R-value of 30, or whatever there is space for.
If you want to do it yourself, you can use fiberglass or cellulose insulation, but you need to add an air barrier because fibrous insulation won't provide one for you. Fill the cavities with fiberglass insulation and then install 2 in. of rigid polystyrene insulation on the underside of the joists and rafters and inside the walls. Carefully caulk or tape the seams in the foam; then nail 1×3 strapping to attach drywall on ceilings and walls.
If you're planning to replace the siding, I recommend using rigid foam on the exterior of the walls over the sheathing. For an enclosed crawlspace foundation, don't forget a vapor barrier on the exposed soil. Don't worry about the vapor barrier over the soil for a pier foundation.