Design
Concrete Possibilities: A Gallery of Ideas
Designer Fu-Tung Cheng illustrates the aesthetic potential of concrete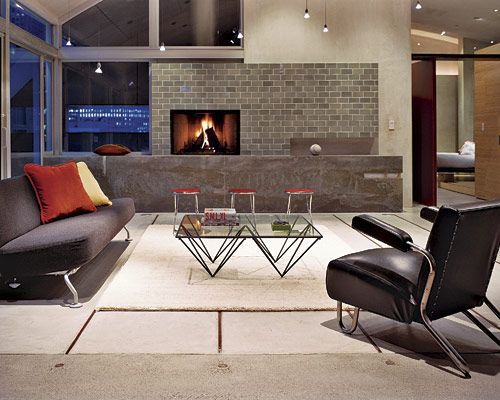 From this view it's clear how important the hearth's added color and texture are in breaking up the graphic lines produced by the tile and control joints on the floor.
The central area of the penthouse floor is a raised concrete platform, which acts as a transition from public to private space—here we look from the master bedroom to the living room. In the far corner of the room, a special platform delineates space for yoga.
In this contemporary California home, the concrete curb acts as a toe-kick to the cabinetry and appears as a natural extension of the floor. Photo by: Chuck Miller
The dramatic approach to this grand house is created by wavy alternating bands of broadcast Mexican pebble and salmon stone. The steps in the foreground are lightly textured with a broomed sand finish for safety.
Found objects can bring balance and aesthetic appeal to any concrete piece.
Here in the dining room of the Ahwahnee Hotel in Yosemite, Calif., the intricate intersection of dry-cuts and acid-washed fields of concrete are a sharp design contrast to the precisely-executed linoleum inlay work in the main hall.
Concrete transforms this kitchen on a modest budget into an elegant jewel. Mounted on off-the-shelf modular cabinets, the countertop was designed to maximize the impact of the dramatic island without using expensive accessories.
From this view of the Natoma Street vanity, it's easy to observe the gentle shape of the two sinks as they combine to soften the angles created by the countertop and other square forms in the room.
Bernard Maybeck carved intimacy out of an interior of massive elements, blending warm concrete walls, oversized concrete beams, and touches of wood. Photo by: Richard Barnes
The massive mantelpiece and surround were formed around a metal insert that's a basic 4-ft. x 3-ft. box in this Danville, Calif., contemporary-style home.
A new interpretation of a traditional surround carries an authentic carved stone look using concrete. Classic details are sourced and reconfigured into molds and cast.
For the walk leading to the Hogan-Mayo house, concrete slabs from a dump were shaped and dry-fitted into a rhythmic pathway border according to a plan by landscape architect Steve Adams. His resurrected concrete is re-born in the hands of a master mason, and as a symbol of good design and innovation, is the perfect place to close the story of concrete at home.