How-To
Straightening a Warped Door
Uneven drying probably caused the bow in your door, and fixing it will likely require a similar process.
Q:
I'm trying to remove the warp in a hollow-core birch door. One side of the door is veneered to match the surrounding walls, so I don't want to chuck the door and start over. Should I veneer the other side to pull the warp out? Any suggestions would be helpful.
Tom Burns, New York, NY
A:
Larry Hart, a door hanger in Reseda, California, replies: The warp your door experienced was caused by an endothermic reaction of the veneering glue on one side of the door. Heat from the chemical reaction of glue applied to one side of the door and not to the other will cause the door to warp every time. It would be possible to bend the door back by veneering the other side, but there is no way to control the reaction needed to reverse the warp to its original position.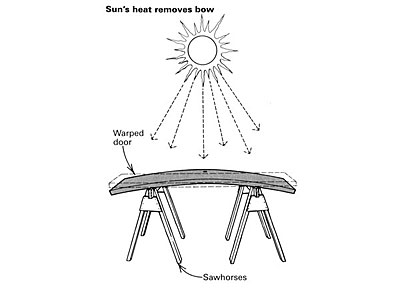 The best way I've found to straighten a warped door is by exposing it to sunshine. I set the door outside on sawhorses with the convex side facing the su
n. The sun's heat will bend the door back into shape.
It's important to monitor the door's progress periodically. The amount of time it takes to remove the warp depends on how hot the sun is and how badly the door is warped. Here in California, it usually takes 20 minutes to 30 minutes in full sun. If the door goes too far and warps the other way, just turn it over and warp it back. When the door is flat, take it back inside and rehang it. It should stay straight as long as no additional chemical reaction takes place from the glue on the original side.