Design
Great Outdoor Kitchens
Well designed and equipped, these open-air kitchens showcase smart ideas for deck, backyard, or rooftop entertaining.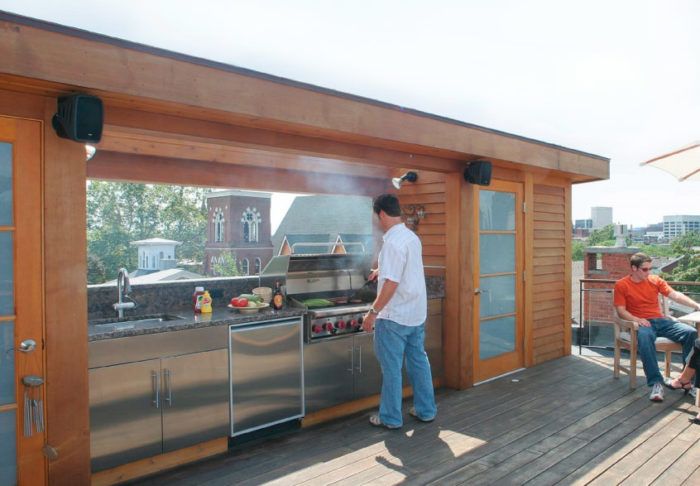 Synopsis: Outdoor kitchens are one of the fastest-growing trends in home building. Bringing the conveniences of an indoor kitchen outside allows you to prepare food, cook, and even clean up without missing out on the fun. Learn how designers and builders from across the country are creating hard-working and great-looking kitchens that can stand up to the elements and the party.
We live in a small house with a large deck. Naturally, we do most of our entertaining outside. Until recently, we've survived with a series of wobbly, hand-me-down grills. But for Father's Day, my family gave me a new gas-light charcoal Weber. It's a great grill because it combines the convenience of gas and the flavor of charcoal. The best thing about my new grill, however, is the attached countertop. Gone are the days of balancing food, utensils, and my beer on the deck railing. After all, cooking outside is about having fun, entertaining, and relaxing.
The value of having a small countertop beside my grill has made the allure of outdoor kitchens easy for me to understand. Bringing the conveniences of an indoor kitchen outside allows you to prepare food, cook, and even clean up without missing out on the fun. Although most designers admit that practicality is less important in outdoor kitchens, choosing durable materials, carefully planning the utilities, and providing for good ventilation are still essential. To learn as much as possible about this growing trend, I talked to designers from New England to Texas about outdoor kitchens for decks, patios, and even rooftops.
Outdoor-kitchen design hinges on location
Connecticut-based kitchen and bath designer Mary Jo Peterson says there are three elements every outdoor kitchen should have: a grill, a sink, and a small countertop. Beyond these basic elements, the design and number of appliances will vary depending on how close or how far the kitchen is from the house.
There are several benefits to locating an outdoor kitchen next to the house. Utility runs are kept short, the sidewall offers a place to mount lights and speakers, and in some cases, the house can be used to shade the sun and protect the area from wind. And for trips to the pantry, the indoor kitchen can be conveniently close by. The farther the outdoor kitchen is from the house, on the other hand, the more well equipped it needs to be.
For one lakefront property, Peterson designed two outdoor kitchens that illustrate both situations. The first kitchen is located adjacent to the indoor kitchen. The gas grill is connected to the house's natural-gas lines and is built in to a small bank of cabinetry. There are two small sinks that are better suited for holding beverages than washing dishes, and there is just enough counter space for serving food.
The second kitchen, complete with a refrigerator and microwave, is in a boathouse. Double doors open up the small kitchen to a patio with a freestanding gas grill fueled by a liquid propane tank. When the kitchen is not in use, the weatherstripped doors seal tight to keep out critters and dust, two things that Peterson warns even the best outdoor cabinetry doesn't do well. Regardless of its proximity to the house, an outdoor kitchen has its own set of guidelines.
For more photos and details on outdoor kitchens, click the View PDF button below. 
View PDF