How-To
A No-Fuss Newel Post
A frame-and-panel box, dressed up with molding, creates an elegant anchor for a stairway.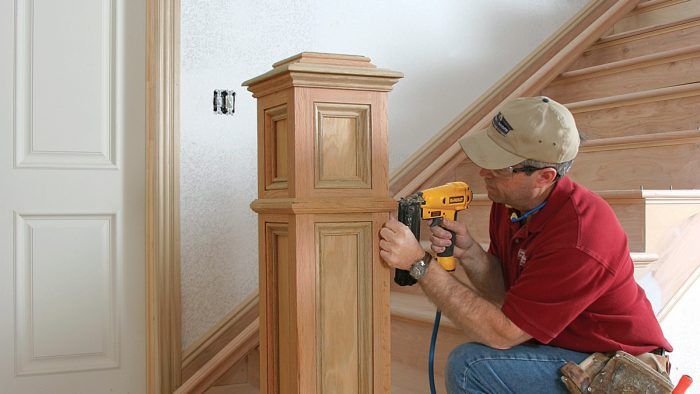 Synopsis: Every staircase has a newel post. Why not use it to add detail to your house? This frame-and-panel design is made from 1-in. oak frames backed with oak plywood, assembled with butt joints, and dressed up with stock moldings and a built-up cap. The nice thing about a hollow and square newel is how easy it is to install.
On most of the stairways that I trim out, the newel post is the only component that I still build myself. Millwork shops have heavy-duty shapers and lathes to turn out contoured railings and shapely balusters. Using basic materials and tools, I can build a newel post to complement these factory made elements.
The post shown here is done in stain-grade oak; it's made from oak plywood, 3/4-in.-thick oak boards, and several oak moldings. The molding that is used most is actually a stock profile seen frequently as a panel molding and a cap for baseboard trim. I make the other two moldings (for the newel's cap and waist) on a router table.
If you've done trim-carpentry work, you already have the tools required to build a newel post like this one. I cut the plywood on a tablesaw and the molding on a miter saw. To join the post's frame-and-panel assemblies, I rely on pocket screws because I've found that pocket-joinery tools are quick and easy to use. You also could do most of the post's joinery work with a biscuit joiner and a finish nailer.
Layout establishes post position and the railing's plumb cut
I notch the bottom of the newel to fit partially over the stairway's first step. To my eye, this looks nicer than having the newel rest fully on the floor, and it's less of an obstacle to folks turning the corner to go up the stairs. Strength is another benefit: The notched configuration offers multiple anchoring points when it comes time to install the post.
When laying out the newel's position, take baluster spacing into account and make sure that the centerline of the post is aligned with the centerline of the railing.
To meet code in my area, the stair handrail should be between 32 in. and 34 in. from the tread, measured at the nosing (most codes now require 34 in. to 38 in.). Taking into account the 7 3/8-in. rise of the stairway, I designed this newel post to create a top panel where the handrail could land and be fastened.
You can mark the railing's plumb cut by extending a vertical line from the notch position on the tread.
For more photos and details on installing a newel post, click the View PDF button below. 
View PDF