Design
A Restful Bedroom Retreat
Ideas you can use to design your own private haven at home.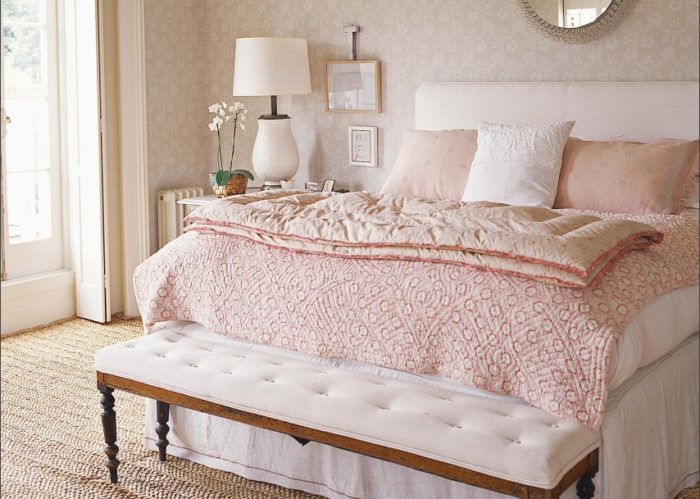 Synopsis: Writer and stylist Judith Wilson offers advice and design ideas for transforming your bedroom into a private and peaceful daily escape, whether you are remodeling or simply redecorating.
The world can be a noisy, stressful place, so now more than ever, we're seeking peace and quiet at home. And what better escape is there than the bedroom, the room we return to at the end of every day? Whether spacious or intimate, your room can be tailored to your needs—from reading, resting, and meditating to exercising or watching TV. Here's how one couple created an in-home sanctuary.
The owners wanted a cozy feeling in the new, spacious bedroom suite they added onto their home. They decided to divide the space into zones for different activities: relaxation (the snug, well-dressed bed invites napping), correspondence (a desk and chair provide a convenient spot for writing), and entertainment (the television can be viewed from both the bed and the armchair, when pulled around).
For these city dwellers, there was a certain appeal in creating a rural-inspired haven with traditional architectural detailing. They placed the master bedroom at one end of a hall, with a dressing room off to the right and a bath to the left, creating a peaceful oasis from family life.
Sloping ceilings and beams add a cozy ambiance, while tactile surfaces and a soft color scheme promote a restful mood. The owners chose robust rush matting underfoot and a softly patterned wallpaper. The focus of the room is the bed, where there's a mix of comfy textures, including an antique quilt, a down comforter, and soft pillows. The color palette features restrained neutrals warmed with shellpink and terra-cotta.
Control of light is vital in a spacious bedroom, so both natural and artificial illumination were considered. Twin sets of French doors let in masses of light, yet they're fitted with full-height wooden shutters for privacy. Louvered shutters on the other windows allow the owners to play with light and create pretty shadows in the room. And at night, a selection of lamps, both by the bed and on the desk, cast gentle pools of light into the room.
Sloping ceilings and beams add a cozy ambiance, while soft colors promote a restful mood.
For more photos and design ideas for transforming your bedroom, click the PDF button below. 
View PDF