Design
Tricking Out the Garage
There are plenty of new options for storage and organization; you might even reclaim some parking space.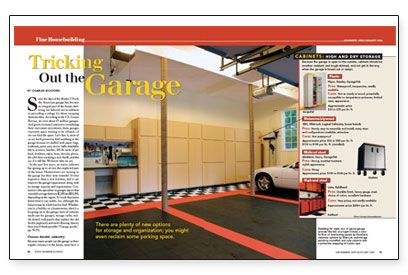 Synopsis: In the current building climate, homeowners look to improve every part of the house, and the one room that's been neglected is the garage. Many contractors and manufacturers are taking advantage of the market growth, and specialize in nothing else but garage remodels. Flooring upgrades, cabinetry, and adaptable storage are all products that are increasing in popularity. This article is an overview of the different product choices, relative costs, and sources of supply.
Since the days of the Model-T Ford, the American garage has become an integral part of the house, sheltering our beloved cars in addition to providing a refuge for those escaping domestic bliss. According to the U.S. Census Bureau, we own about 65 million garages. And given everyone's interest in revitalizing their real-estate investment, those garages represent space waiting to be refined — if we can find the space. Let's face it, most of us are hard-pressed to find anything in the garage because it's stuffed with paper bags, trash cans, paint cans, soccer balls, baseballs, bikes, scooters, lumber, 100-lb. sacks of pet food, fertilizer, rakes, hoes, shovels, gloves, the odd chair awaiting a new finish, and the car, if it still fits. We know who we are.
In the past few years, an entire industry has sprung up to service this neglected part of the house. Homeowners are turning to the garage for their next remodel: It's less expensive than a new kitchen, and it can improve the garage's appearance along with its storage capacity and organization. Contractors who specialize in garages report that remodels average between $2,000 and $10,000, depending on the region. It's work that many homeowners can tackle, too, although the fixtures may be a little hard to find. Whether you're a builder or a homeowner, there's a lot going on in the garage: lines of cabinets made just for garages, storage racks, stylish slotted wall panels that replace the old brown pegboard, and more flooring choices than you'd think possible.
Choose durable cabinetry
Because many people use the garage as their regular entrance to the house, most have a vested interest in minimizing sprawl. Open shelving will do the job, but cabinets can conceal storage neatly behind closed doors. "Many homeowners consider their remade garages an extension of the kitchen or living room and would no sooner put bare-steel shelving in their garage than they would in their library," says Doug Arendt, president of the Complete Garage, a Midwest remodeling chain.
Available in styles ranging from bare-bones plastic to powder-coated steel, cabinets should resist moisture and the occasional bang or scrape, and still be able to hold all manner of stuff. Look for a UL-rating of their load capacities. They also must be mounted above the floor in anticipation of seasonal flooding or spring cleaning.
If you go to your local home center, you're likely to find plastic cabinets; manufacturers include Stanley and Plano. Completely waterproof, they're usually the least-expensive choice. Most have adjustable metal shelving, and some have locking doors. The problem with plastic cabinets is that some evidence suggests they can crack if they get too cold and sag if they get too hot. As mentioned before, many homeowners won't buy them because they don't go with the rest of the house. GarageTek is trying to overcome that perception with a higher-quality (and higher-priced) line of plastic cabinets that hang from the company's slotted wall system.
For more photos and details, click the View PDF button below:
View PDF