Hanging Solid-Core Doors Solo
A tool borrowed from drywallers makes easy work of lifting and positioning heavy wood doors.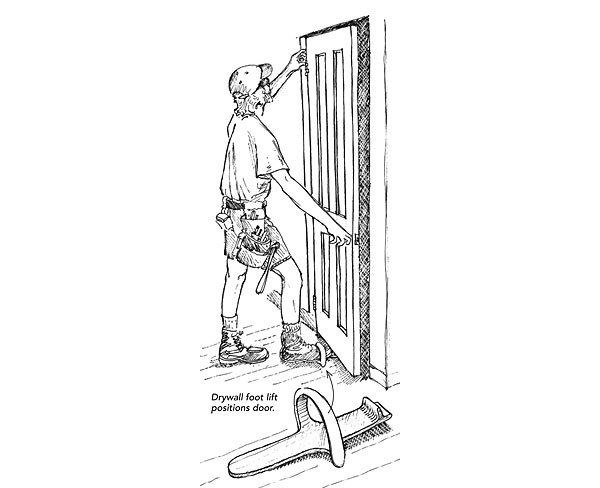 When I have to muscle a solid-core door into or out of its hinges, I let a drywall lifter (a tool designed for placing drywall on walls) do the heavy lifting. Unlike a flat bar, a drywall lifter features an integral fulcrum (so I don't have to set it on top of a 2×4 to get leverage) and a stirrup that permits hands-free operation. As shown in the drawing, when I'm ready to set the door, I slip a toe through the stirrup, use my foot to center the lift under the door, and effortlessly raise the door into position. You can find these tools at the big drywall-supply outlets that cater to the pros. Expect to spend from $15 to $20 for one.
By the way, the sharp metal edges of the lift can scratch wood surfaces, so I usually cover them with a layer of duct tape.
Tom O'Brien, New Milford, CT
Edited and Illustrated by Charles Miller
From Fine Homebuilding #178