Design
Avoiding Accidents on the Tablesaw
Here's how to get the most from your saw without getting hurt.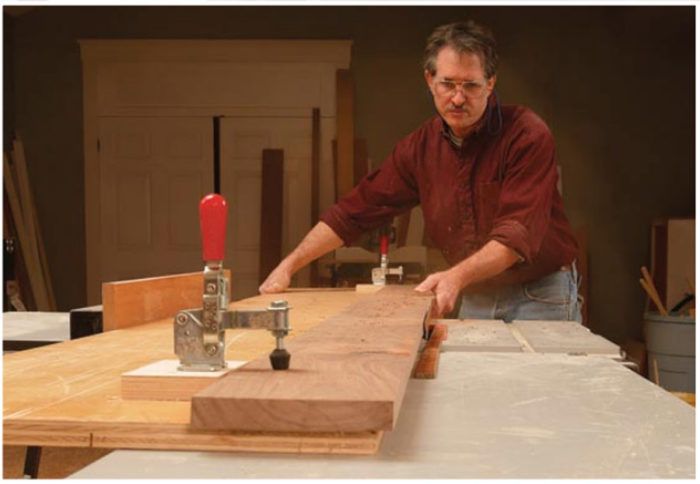 Synopsis: In this six-page article, contributing editor Gary M. Katz details the safest techniques for using a portable tablesaw. Features include a discussion of kickback, keeping your hands out of the danger zone, making a riving knife for safer cuts, and using featherboards and push sticks.
A short time ago, a good friend of mine cut off the tip of his thumb on his tablesaw. He's a good guitar player, too. We're the same age; both of us have been working in this business about the same amount of time. I felt terrible about the whole situation, but it just reinforced to me the importance of tablesaw safety. Reminders like this one have made me develop techniques to protect myself from mistakes. So far, those habits have saved me from disaster.
Any article on tablesaw safety would be remiss if the issue of blade guards weren't faced honestly. Of the carpenters I've met around the country, I'd say 99% never use a blade guard on their tablesaws. In more than 30 years of working on job sites, I've never seen anyone use a guard on a portable saw. But I've seen and heard about a lot of tablesaw accidents. Lots of numbers are batted around, but here's a conservative estimate: According to the Bureau of Labor Statistics, tablesaws caused more than 2,000 reported injuries during 2004, and most of those accidents probably could have been prevented if a guard had been in use.
Does that mean we're all going to start using the guards on our tablesaws? No, I don't think so, although some blade guards definitely work better than others. Most of us will continue using our saws without guards for numerous reasons. A guard makes it impossible to rip narrow pieces, or to cut dadoes and rabbets. It's troublesome to take a measurement between the fence and the sawblade with the guard in place, and—maybe most aggravating for carpenters on job sites—you can't see through a guard.
The reality of using a portable tablesaw is that it's important to learn how to work safely with the guard off the saw. This article highlights some of the most important tablesaw-safety techniques I use every time I turn on the tool. I start by listening to the little voice inside my head. When something feels wrong, I don't do it. I go get some coffee and think up another method. At the end of the day, I count my blessings on all 10 fingers.
For more photos and tips on tablesaw safety, click the View PDF button below. 
View PDF