How-To
PEX Pipe: Is Copper On the Way Out?
Cross-linked polyethylene tubing is cheaper to buy, is faster to install, and won't corrode or explode.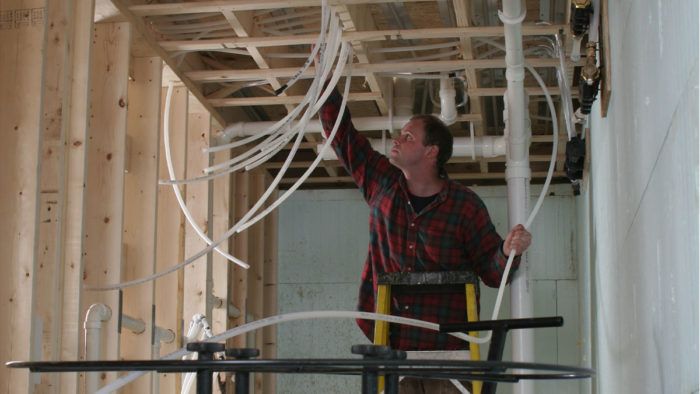 Synopsis: Rising copper prices, combined with a new, easy to use, and seemingly reliable product may mean that copper is going the way of lead and galvanized iron before it. PEX, or cross-linked polyethylene, has been around now for about 50 years as the go-to product for radiant floor heating. The flexible tubing cuts plumbing time by a third, is wonderfully suited for remodeling, and offers superior burst resistance due to freezing, but should we trust it?
---
Most of us grew up in homes with copper pipes, and they were reliable enough that we gave them little thought. Joining them takes soldering skills so simple that my father taught me when I was about 10. But a relative newcomer, PEX, is mounting a serious challenge to copper plumbing, despite the latter's long history of reliability.
PEX is a clumsy acronym for cross-linked polyethylene, meaning that it's a strong plastic suitable for potable water. Popularized as the go-to product for radiant-floor heating, PEX has seen its use for potable water grow by about 40% annually. This isn't happening on a lark. The scuttlebutt among plumbers is that PEX is every bit as reliable as copper, yet costs less and is faster to install.
My own experience with PEX involves two underfloor heating systems. The plastic pulls through holes in joists and studs with slightly more difficulty than Romex. Fittings for PEX are expensive, but you don't use many.
What is PEX anyway?
Polyethylene is a common plastic whose inert nature makes it valuable for food containers (or in this case, potable-water pipes). you likely poured milk into your morning coffee from a polyethylene jug. PEX differs from your milk jug in that it's cross-linked — its molecules are rearranged to resemble a chain-link fence — which greatly increases the plastic's strength.
Although the polyethylene PEX is made of comes from oil, it is one of the more environmentally friendly plastics. No pipe is without environmental cost. Although much of the copper used for pipe is recycled, all of it originally came from mines. And the manufacture of another plastic pipe, CPVC (chlorinated polyvinyl chloride), is said to release dioxin, a potent carcinogen.
Cross-linked polyethylene, although chemically the same as the milk jug, is much tougher and has a "shape memory," allowing it to be stretched or kinked and return to its original shape with time or heat. PEX's shape memory is so strong that at least two manufacturers, Rehau and Uponor, rely on it to create leakproof joints, rather than on crimped metal fittings.
Three different processes are used for crosslinking this plastic, and the resulting products are called PEXa, PEXb, and PEXc. The original, PEXa, dates from the 1950s and has been sold in Europe for radiant-floor heating since 1971. Rehau's Lance MacNevin says PEXa is more forgiving than either PEXb or PEXc, claiming that it can be stretched to about 400% of its manufactured length before failure. But even PEXb and PEXc can stretch substantially. Because of PEXc's cross-linking process (cross-linked with a laser beam while lying flat), it tends to stay flat when rolled out. If you've ever found yourself being followed by a coil of pipe when installing an underground plastic water line, you'll appreciate this seemingly small advantage. PEXb and PEXc are somewhat less expensive than PEXa.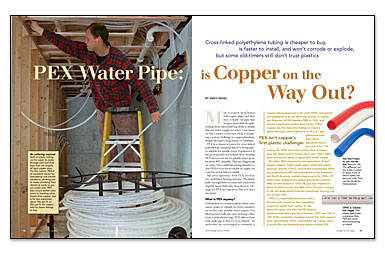 For more photos, drawings, and details, click the View PDF button below:
View PDF