A Low-Cost Alternative to Hidden Deck Fasteners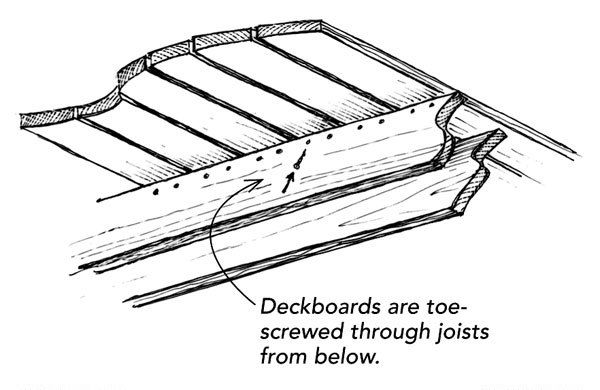 After reading your story on deck fasteners and fastening systems (FHB #178, pp. 78-82), I had to chuckle. When I built my own deck, I wanted to conceal the fasteners for aesthetic reasons as well as for function (not catching something on a protruding fastener) and durability (not creating an entry point for moisture to penetrate the decking).
I looked at all the edgemount and bottom-mount systems, and was turned off by their tediousness and taken aback by their price. Instead of investing in one of these proprietary systems, I used GRK R4 Multi Purpose Screws (www.grkfasteners.com) to affix each deck board to its joist from below. As shown in the drawing, I used two 8×2-1/2-in. screws per board at each joist. Working from below, I started the screws about 11/2 in. from the top edge of the joist and angled them at about 30°. That put about 3/4 in. of each screw into the 5/4 deck boards. The sharp "zip-tip" points of the screws eliminated the need to drill pilot holes.
It has been a couple of years since I installed the decking, and it looks great. The decking is solid as a rock without a single squeak, and I saved about $1,500 on mounting gizmos.
—Steve Carle, Edina, MN
Edited and illustrated by Charles Miller
From Fine Homebuilding #182