Design
Laminate Flooring Is Here to Stay
It's better-looking and more affordable than ever.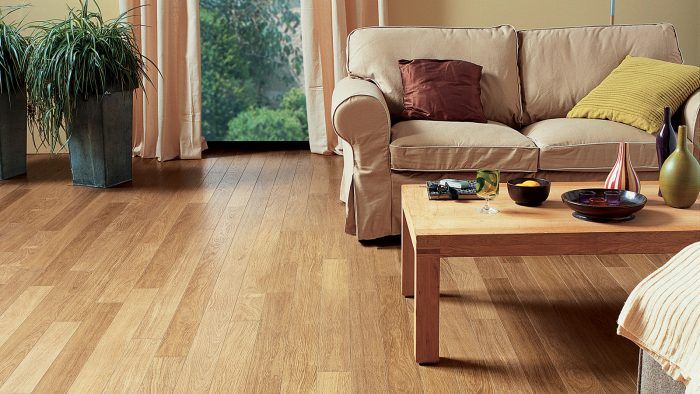 Synopsis: Laminate may not be the hardwood flooring that many homeowners dream of, but it's an affordable option that is growing in popularity. Today's laminates are available in a wide variety of styles, looking like everything from wood to tile to limestone. Assistant editor Justin Fink explains the details of laminates: how they're made, how they are assembled in a house, and how manufacturers are making them look increasingly like the real thing they're representing. Included are sidebars on laminate moldings and laminate underlayments, which include vapor barriers and sound-reduction layers.
While it may never be your first choice for the main entry of a house, laminate flooring has even the most devout natural-flooring fans appreciating its variety and affordability. According to Texas builder Mark McSwain, "Everyone seems to agree that it's not as good as the real thing, but at an average price of $1.24 per sq. ft., it is what folks will pay for."
According to the North American Laminate Flooring Association (www.nalfa.com), laminates have experienced the largest continuous growth in the entire flooring industry. Manufacturers are converting skeptics by improving laminate technology with innovations like glueless mechanical joints, tapered and beveled edges, and realistically textured surfaces.
The ever-widening choice of styles is also a positive factor. Interested in wormy chestnut, hand-scraped pine, limestone, Mexican pavers, or ceramic tile? You can be sure it's available in laminate.
Photos can't compete with samples
The Web has created a large online flooring market, but resist the temptation to choose a laminate sight unseen. The feel of a laminate floor is absolutely as important as its appearance. At the very least, ask manufacturers, distributors, and online retailers for samples of each product you are interested in comparing. They are usually happy to provide samples, and you will be surprised by how different each floor looks in person.
Even better, visit a flooring retailer that has sample installations. There is simply no better way to see how realistic the surface appears, to evaluate how each brand holds up to foot traffic, and to hear how different floors sound under a pair of high heels.
Is thicker better?
Laminate flooring typically ranges from 6 mm to 12 mm thick (roughly 1⁄4 in. to 1⁄3 in.). According to Andre Tesolin of Torlys Flooring, a manufacturer of laminate and other types of flooring, if a laminate is thinner than 8 mm, the planks may not be stable enough to resist the cupping effects of high moisture. And although the perception is that thicker is better, Tesolin warns that many of the thicker laminates are of a lower quality and also may be susceptible to excessive swelling in moist environments.
Steve Simonson, chief executive officer of iFloor.com, notes that when thicker high-quality planks or tiles are combined with a good underlayment, they are less likely to sound hollow underfoot — a common complaint with laminates in general.
The only way to know for sure whether thicker is better is by checking the product's swell rate, which measures how much the laminate core expands when submerged in water for 24 hours. Tesolin notes that better-quality brands make this information available in print because it is a key differentiator. The maximum allowable standard for moisture swell is 18%; many laminates fail this test, or come dangerously close to failing. Once the core gets wet and swells, the entire piece needs to be replaced. Better products have swell ratings of 12% or less, but if you don't see the number on the box, there's a good chance that the product has poor resistance to high humidity and moisture absorption.
Photo courtesy of Quick-Step
For more photos, illustrations, and details, click the View PDF button below:
View PDF