How-To
Range hood sucks smoke from the fireplace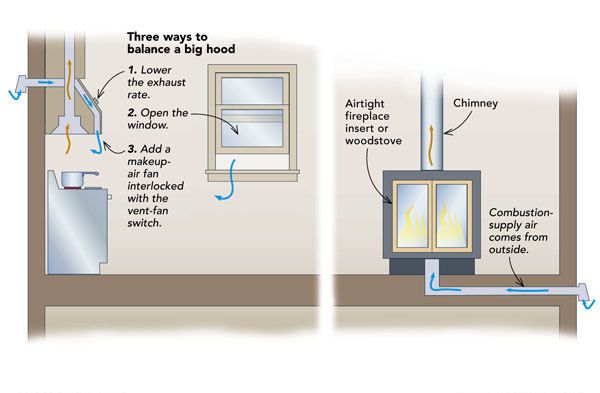 Q:
When we built our new home, I bought a 48-in. gas range and vent hood. The problem is that the vent hood sucks smoke from the fireplace and draws ashes halfway across the room when I turn it on. On high speed, the hood pulls 1200 cu. ft. per minute (cfm). I have read several articles about airtight, energy-efficient homes having this problem. What should I do?
Cheryl Morris, via email, None
A:
Max H. Sherman, senior physicist at Lawrence Berkeley National Laboratory in Berkeley, California, replies: Your problem occurs far too often because the house design didn't take into account the effects of a tight building envelope.
The amount of air inside your house stays fairly constant. When air is exhausted somewhere, it must be replaced somewhere else. As you've discovered, the easiest way for the makeup air to enter your house is the fireplace chimney, so your exhaust fan is pulling in (and exhausting) combustion byproducts. Ashes blowing across the floor are a minor concern compared to the danger of pulling smoke and carbon monoxide into your living space when the fan is running and wood is burning in the fireplace.
So what to do about it? Here are three options. One: Lower the kitchen exhaust rates. With a decent range hood, you should be able to capture stovetop smoke effectively with a fan that runs at 100 cfm to 200 cfm. At these lower exhaust rates, the problem will be reduced and could even go away.
If you don't want to downsize the kitchen exhaust, the second low-tech solution is to poke a big hole in your house. Building codes in the north often require that if you have a combustion appliance that is vented through a chimney without the help of a fan (atmospherically vented), your house must have a hole (typically equipped with a damper) nearby to supply makeup air. This process works, but when the appliance is not being used, the makeup-air hole is the site of a big leak that can cause comfort problems and waste energy. You also could open a kitchen window a foot or so whenever you use the exhaust fan. Of course, this solution isn't comfortable, and it wastes energy.
Third: Because your kitchen exhaust equipment is approaching the size used in commercial kitchens, you can do what commercial kitchens do. They have a separate supply-air system interlocked with the exhaust controls. When the exhaust fan is turned on, a compensating supply fan comes on and brings makeup air into the kitchen. The makeup-air fan often is located within the range hood. For a detailed discussion of commercial-range-hood solutions, read the design guide at the California Energy Commission's Web site: www.energy.ca.gov/reports/2003-05-05_500-03-034F.PDF.
But that's not all you have to think about; the fireplace is just as problematic. For both efficiency and safety when burning wood, you're better off with some sort of a sealed combustion system. The air required to burn wood comes from outside the house, and that's also where the smoke and the combustion gases go. High-quality woodstoves and fireplace inserts operate this way.
When the glass door of the woodstove or fireplace insert is closed, you can turn on the kitchen vent fan with no fear of flying ashes or incoming combustion gases.
I also recommend that you get a good carbon-monoxide (CO) alarm. You are not likely to have a CO problem when the exhaust fan is operating. After the exhaust fan is off and the fire has burned down, however, CO could accumulate. If the CO is not removed, the consequences could be fatal.