Tools & Materials
A Small-Shop Survival Guide
With mobile machines, smart storage, and ample lighting and power, even a one-car garage can be a first-rate workshop.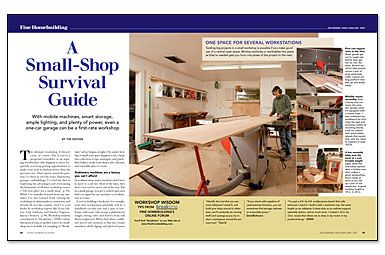 Synopsis: There's no such thing as the perfect workshop, but it's a goal we all strive for. And one of the most daunting challenges is creating a safe and functional shop in a small space. This "survival guide" will help readers get the most from a limited space, with tips on lumber storage, tool selection, shop cabinets, lighting, power, and even the material used to finish workshop walls.
The ultimate workshop. It doesn't exist, of course. But if you're a perpetual remodeler or an aspiring woodworker who happens to move frequently, you keep getting opportunities to make your next workshop better than the previous one. That's pretty much the position I've been in over the years. Basements, garages, outbuildings: I've had my shot at exploiting the advantages and overcoming the limitations of all these workshop venues. While I've (usually) learned from my mistakes, I've also learned from visiting the workshops of cabinetmakers, contractors, and friends all over the country. And I've read books by workshop experts like Scott Gibson, Paul Anthony, and Sandor Nagyszalanczy. Workshop wisdom contributed at "Breaktime," FHB's online discussion forum, is another source for small-shop survival skills. No matter how big or small your space happens to be, I hope this collection of tips, strategies, and guidelines helps to make your shop a safe, efficient, and enjoyable place to work.
Stationary machines are a luxury you can't afford
In a cabinet shop, major machines don't have to move to a job site. Most of the time, they don't even need to move out of the way. But in a small garage, you get a central open area that's occupied by one machine or workstation at a time.
If you're building a bookcase, for example, your first workstation probably will be a handheld circular saw and a pair of sawhorses with some 2x4s on top: a platform for rough-cutting sides and shelves from full sheets of plywood. When that's done, a tablesaw moves into position so that face-frame members, shelf edging, and plywood parts can be cut to final widths. Assembling the case also takes place in the center of the shop, and the same is true for finishing, unless you can move outdoors.
Small-shop choreography — performing different operations in the same space — demands good project planning, a well-organized work area, and tools that move around easily. Fortunately, mobile bases and stands are widely available for just about any machine you find in a workshop. I have my tablesaw, dust collector, thickness planer, and two workbenches on mobile bases or on locking casters. Overkill, perhaps, but there's no pressure to get my workshop layout exactly right because changes are easy. Prices for aftermarket mobile bases begin around $70. For about $30, you can buy a set of four heavy-duty casters to build your own base or turn a stationary workbench into a mobile one.
Lumber and materials can overwhelm any shop
Smart storage improves workshop efficiency, and building materials usually present the most troublesome storage challenge. The major players here are sheet goods, long lengths of solid wood or molding, and the offcuts that accumulate with every project.
To read the entire article, click the "View PDF" button below:
View PDF