How-To
How To Dry a Soggy Ceiling
If drywall gets wet, it's often possible to remove the moisture before it damages the building.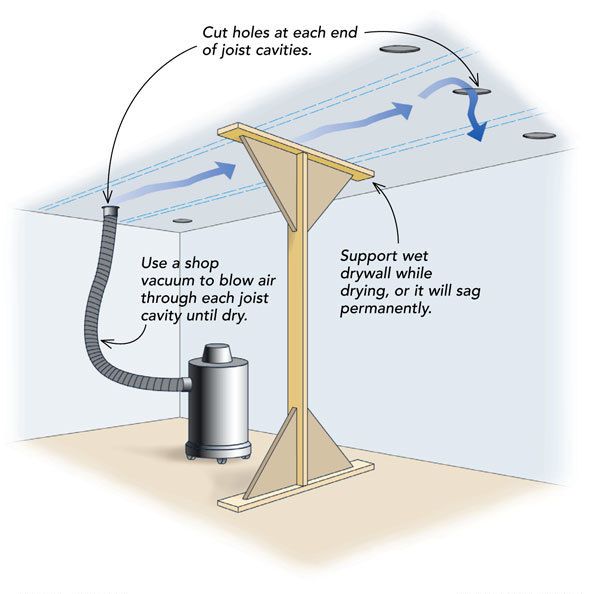 Q:
Because my washing machine is on the second floor, it sits in a galvanized pan connected to a drain. But the other day, the discharge hose broke, spraying water onto the floor outside the pan, where it soaked into the living-room ceiling. By evening, the paint was bubbling. I poked holes through the ceiling and drained 2 gallons of water into buckets. Also in that ceiling is radiant-floor heat, along with aluminized bubble wrap and unfaced fiberglass-batt insulation.
Scott Gibson, East Waterboro, ME
A:
Joseph Lstiburek, P.Eng., replies: I'll bet you a case of Canadian beer that you can get the ceiling dry before you have to worry about mold. You typically have 72 hours (most people say only 48 hours, but they are overly cautious).
Turn on the radiant-floor heat and the air conditioning to get some energy exchange happening; heating and cooling will speed the drying. To speed the process further, cut some holes in the drywall ceiling to allow air movement. Professional drying and restoration contractors attach flex duct to one hole and blow air through the joist bay and out a hole cut into the other end of the joist bay. You can do this with a shop vacuum. After a couple of days, let the ceiling cool down to equilibrium temperature (a couple of hours). If nothing smells moldy or musty, you're done. Patch the holes, paint the ceiling, and drink the beer.
If the ceiling smells moldy, take it down, throw away the insulation, scrub what is left in the joist bay with soap and water, let it dry, paint everything with latex paint containing zinc, and put it all back together again. And move your washing machine to the basement.
Myron R. Ferguson, author of  Drywall , adds: Here are a couple more things to keep in mind. Drywall can be dried out after it gets wet, but if any sagging has occurred, the drywall will hold this new shape. It will be difficult to pull the drywall back tight to the framing and impossible to pull it back up between the framing. Supports that hold the drywall flat while it dries are a good idea as long as they don't interfere with the drying process (move them around every few hours).