Design
The Quest for a Quiet Room
Successful sound control requires a basic understanding of acoustics, the right materials, and attention to detail.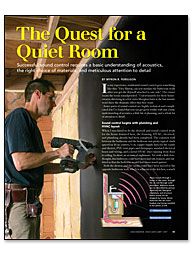 Synopsis: The noise that travels from one room to another has a big effect on privacy and comfort. So it's no wonder that sound-control strategies are often important in house construction. Whether you are dealing with new construction or remodeling, nationally known drywall expert Myron R. Ferguson explains the materials and construction techniques you can use to diminish sound transmission.
In my experience, residential sound control goes something like this: "Hey Myron, can you insulate the bathroom walls after you get the drywall attached to one side? The owner wants the room soundproofed." Unfortunately for those homeowners, throwing in a few extra fiberglass batts at the last minute won't have the dramatic effect that they want.
Some parts of sound control are highly technical and complicated, but I've found that you can get great results with just a basic understanding of acoustics, a little bit of planning, and a whole lot of attention to detail.
Sound control begins with plumbing and HVAC layout
When I was hired to do the drywall and sound-control work for the house featured here, the framing, HVAC, electrical, and plumbing already had been completed. The common wall between the bathroom and the bedroom was pretty typical: studs spaced on 16-in. centers, 1⁄2-in. copper supply lines for the vanity and shower, PVC vent pipes and drainpipes, standard electrical boxes and wiring, and a metal HVAC duct running from floor to ceiling. In short: an acoustical nightmare. Yet with a little forethought, this bathroom could have been laid out, framed, and outfitted so that the bedroom would have been much quieter.
Both the shower and the vanity could have been moved to the opposite bathroom wall, which is adjacent to the kitchen, a much less critical area for soundproofing. Be sure to think about such design issues ahead of time.
The good news is that the materials and methods shown here can address sound control in both new construction and remodels. If you don't attend to even the minutest details, though, you might be disappointed with the results you get.
Noise is often a mixture of sounds
Noise is defined as any unwanted sound, but there are main two types of sound that I need to worry about: airborne and structure-borne.
Airborne sound is created when a vibrating object causes surrounding air particles to vibrate. The resulting sound waves then travel outward in all directions like ripples in a pond.
Structure-borne sound is transmitted through walls, ceilings, and floors in the form of vibrations. Typical sources are washers and dryers, window air-conditioning units, bathroom exhaust fans, or footsteps.
There are several options for reducing noise transmission between rooms. But because airborne sound often enters floors, walls, and ceilings and becomes structure-borne, a combination of both airborne and structure-borne solutions is usually the best course of action.
Replace or treat the source
The first step in managing noise problems is to look at the source. These solutions are comparatively inexpensive and can be easy to implement. For instance, a noisy, old dishwasher can be replaced with a quieter model. Or a rattling garage-door opener can be mounted on the ceiling with rubber connectors to isolate vibration.
For more photos, illustrations, and details, click the View PDF button below:
View PDF