Design
A Hillside Cabin's Unlikely Addition
A three-story tower solves steep-site problems by bringing the house to the cars.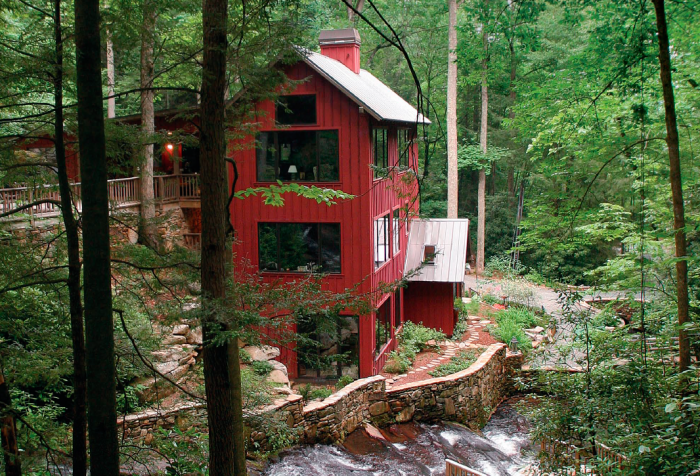 Synopsis: When architect Parker Platt and his colleagues were faced with the dilemma of how to renovate a hillside cabin to make it more accessible, they added a three-story tower to make the cabin touch the ground. Heeding the important issue of maintaining the view (in this case, a waterfall), Platt and his firm changed a weekend retreat into a year-round family residence with two large bedrooms, various nooks, and an elevator. The tower addition is attached to the hillside with soil nails, which replace the more common retaining wall for this project.
My little corner of western North Carolina, Transylvania County, is known as the land of waterfalls. Most people here dream of a house with a waterfall view. Susan and Fain were no exception. They bought a creekside cabin and promised a few of us from our architecture firm a fried-chicken lunch if we would visit for a consultation. The bait worked. When we laid eyes on the tiny getaway cabin, we were hooked. Clinging to the side of a mountain and surrounded by decks, walks, bridges, and stone walls, this cabin both charmed and sobered us. Steep topography made the Appalachian-waterfall dream house a serious design and building challenge.
Inventory the good and bad features
Our firm does 10 to 12 projects every year; 90% of them are new houses. Whether we're looking at a new site, a renovation, or an addition, our first step is always the same: Identify the good qualities, and protect them as much as possible. We prefer to add only what is needed, and try to do that in a way to complement the original qualities. Conversely, we disrupt as little as possible.
Susan and Fain's cabin had living, dining, and kitchen space; two small bedrooms; and one bathroom all packed into one level. The real amenity was the house's assortment of decks, bridges, walks, and stonework. All these qualities worked together to make a charming weekend getaway cabin focused on outdoor living.
For comfortable year-round family living, though, the cabin's limitations began with space issues; there wasn't enough room. Ceilings were low, rooms were small and chopped up, and interior spaces were dark, with no impressive views of the waterfall. None. Finally, accessibility was terrible: The cabin was a 90-ft. walk and a 25-ft. climb from the parking area.
Bring the cabin to the cars
When building on steep slopes in the mountains, it is often best to think about the car first. You have to get the homeowners' and guests' cars off the road, with sufficient room to park, turn around, and get back on the road. All over the mountains, there are houses that people don't like to visit after dark because the driveway and parking area present difficult or even dangerous challenges. You don't want to have a dinner party and find your guests rushing off before dark so that they can navigate the drive confidently. Basically, a typical house requires parking and a turnaround area with a relatively level 40-ft.- dia. circle. Creating this area on a 20% slope requires good grading, drainage planning, and engineered retaining walls.
For more photos, drawings, and details, click the View PDF button below:
View PDF