Design
The Big Little Backyard House
High ceilings and long views give this 540-sq.-ft. infill cottage an expansive personality.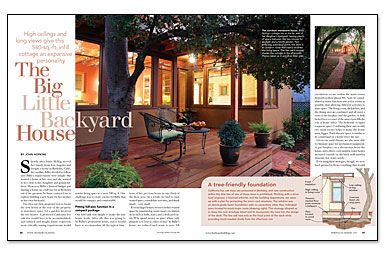 Synopsis: Berkeley architect John Hopkins' client wanted to build a house for her mother in her own backyard. No, this isn't the premise for a network-TV sitcom; it was a real-life proposal to allow a grandmother to live close to her grandchildren but still have her own personal space. Although zoning requirements restricted the cottage to 540 sq. ft. and the site included a California live oak tree that had to be protected, Hopkins was able to create a home that's both compact and comfortable. The floor plan eliminates wasted space and consolidates many functions into as few rooms as possible. Maximizing the ceiling height takes the onus off a small space, and the use of ceiling-height windows and doors adds to the expansive feeling. Outside, meanwhile, a large deck nearly doubles the living space. 
Magazine extra: Watch video tours where architect John Hopkins explains how he used the site's restrictions to his advantage, and homeowner Billie McKig guides you through the features she loves most.
Shortly after Suzie McKig moved her family from Los Angeles and bought a house in Berkeley, Calif., her mother, Billie, decided to follow suit. Billie's requirements were simple: She wanted a home of her own, and she wanted to live close to her daughter and grandchildren. However, Billie's limited budget put finding a house on a full-size lot in Berkeley out of the question. So Suzie contacted me to explore building a new home for her mother in her own backyard.
The idea our firm proposed was to locate the new house at the rear of the property to maximize space for a garden between the two houses. A protected California live oak tree would have to be accommodated, and setback and height limits respected; most critically, zoning requirements would restrict living space to a mere 540 sq. ft. Our challenge was to create a home for Billie that would be compact and comfortable.
Fitting full-size function in a compact package
Our first task was simply to make the tiny house work. After all, this was going to be Billie's permanent home, and it would have to accommodate all the typical functions of her previous house in one-third of the floor area. As a result, we had to omit wasted space, consolidate activities, and think small — very small.
Even in larger homes, we try to reduce wasted space by minimizing unnecessary circulation areas such as halls, stairs, and a dedicated entry. Why spend money on space whose only purpose is to lead to other rooms? In Billie's house, we reduced such waste to zero: All circulation occurs within the main rooms themselves. Next, we consolidated as many functions into as few rooms as possible, thus allowing different activities to share space. The living room, the kitchen, and the dining area are combined, and all enjoy a view of the fireplace and the garden. A desk tucked in to a corner of the same room fills the role of home office. The bedroom occupies a separate space. Combining these uses in only two main rooms helps to make the house seem bigger. Each discrete space is similar to its counterpart in a house twice the size.
Given our mild climate, we also were able to eliminate space for mechanical equipment. A gas fireplace on a thermostat heats the house, and a direct-vent tankless water heater mounted outside on the back wall satisfies domestic hot-water needs.
Even using these strategies, though, we were hard-pressed to fit in everything that would make this a real home. Compact appliances were a big help in the little kitchen. A 2-ft.- wide refrigerator, a 2-ft.-wide range, and a single-bowl sink all save counter space, while a single-drawer dishwasher allows for more storage space in base cabinets. For laundry, a dual-function washer/dryer in the closet takes up as little space as possible.
For more photos, drawings, and details, click the View PDF button below:
View PDF