Sealing an air leak next to a chimney
Learn how Fine Homebuilding's Special Issues Editor Charles Miller easily remedied an energy nosebleed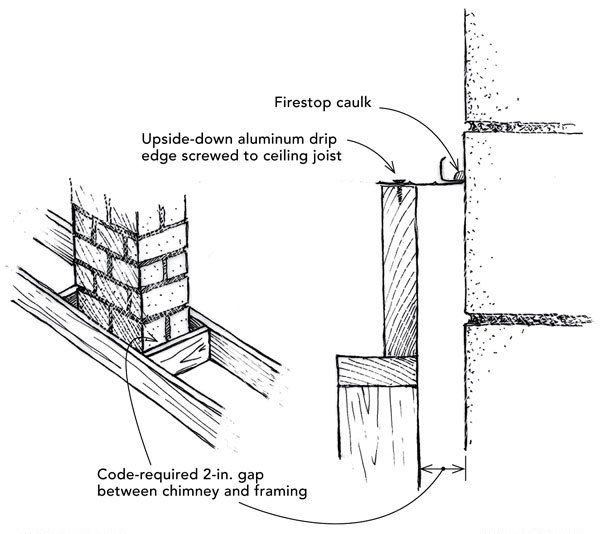 A couple of weeks ago, when the temperature dropped to 9°F and the wind picked up, it got downright uncomfortable in our dining room. A persistent draft made it really hard to heat the room. I'd just read Bruce Harley's article "Home Remedies for Energy Nosebleeds" (FHB #190), and a piece of advice about stopping drafts caused by fire-code clearances between chimneys and framing members stuck in my head. Had the builder of our house left those gaps unsealed?
The answer: mostly. The thick layer of fiberglass insulation that covers our attic floor was tightly packed around the chimney. I peeled it back to see if the gaps had been sealed with a fire-rated air stop such as sheet metal or cementboard. What I found were unsealed gaps that varied from 2 in. wide to 4 in. wide and warm air pouring through the insulation. Fiberglass doesn't stop air leaks; it just filters out the particulates. If you find discolored fiberglass, you've found an air leak.
To remedy this nosebleed, I used some scraps of aluminum drip edge left over from a roofing job. I used pieces of various widths—up to 6 in. in places—to seal the airspace between the ceiling joists and the chimney, as shown in the drawing. I installed it upside down, with the drop leg pointing up. This folded leg strengthens the unsupported edge and created a perfect little trough for firestop caulk.
I affixed the drip edge to the framing with short drywall screws. There were plenty of places where I had to notch the edging to get around blocking and whatnot. The firestop caulk filled any remaining gaps. The drip edge was easily cut with tin snips.
Now we can skip the parkas as dinner attire.
Edited and Illustrated by Charles Miller
From Fine Homebuilding #194