Tools & Materials
Testing 12-in. Sliding Compound-Miter Saws
They're big and expensive, but versatile enough for framing, trim, siding, and cabinetry work.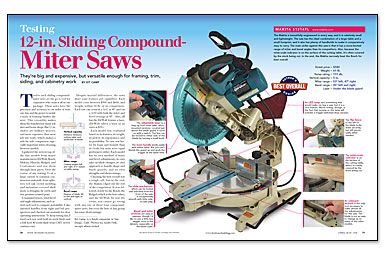 Synopsis: Sliding compound-miter saws are real workhorses on a job site. They're big enough to 2x10s and pressure-treated posts, yet versatile enough to cut delicate trimwork and cabinetry pieces. California finish carpenter Kit Camp tried out six of the newest top-of-the-line 12-in. sliding compound-miter saws and rated them on their vertical capacity, miter range, bevel range, noise level, and other features. Camp ranks a Makita model as best overall, but in the end, says that you can't go wrong with four of the six saws he looked at.
Magazine extra: Watch carpenter Kit Camp test each miter saw in a series of short videos.
Twelve-inch sliding compound-miter saws are the go-to tool for carpenters who want it all in one package. These saws have the precision and accuracy to cut miles of trim one day, and the power to tackle a stack of framing lumber the next. This versatility makes them the standard for many job sites and home shops. But 12-in. sliders are bulkier, heavier, and more expensive than most job-site tools, which makes a side-by-side comparison especially important when choosing between models.
I gathered the newest top-of-the-line models from major manufacturers (DeWalt, Bosch, Makita, Hitachi, Ridgid, and Craftsman) and ran them through their paces. Over the course of my testing, I cut a large variety of common construction materials, from splintery red-oak crown molding and melamine-covered shelf stock to Douglas-fir 2x10s and wet pressure-treated posts.
I examined fences, tried bevel and angle adjustments, and carried each tool to compare portability. I also assessed handles from right and left perspectives and checked out manuals for clear operating instructions. To keep testing fair, I tried each saw with both its stock blade and a full-kerf 80-tooth blade from CMT (www.cmtusa.com).
Despite myriad differences, the saws share some features and capabilities. Each model costs between $500 and $600, and weighs within 10 lb. of its competitors. Each saw can crosscut a 2×12 at 90° and cut a 2×10 with both the miter and bevel settings at 45°. Also, all but the DeWalt feature a laser. (DeWalt offers a laser as an extra at $70.)
Each model was evaluated based on its features, its weight, its power, its ergonomics, and its portability. No saw was better by leaps and bounds than its rivals, but none were equal performers either. Each model has its own method of miter and bevel adjustments, its own take on blade changes, its own approach to handle shape and blade guards, and its own strengths and shortcomings.
Choosing the best overall was a tough call, but in the end, the Makita edged out the rest of the competition. It was followed closely by the Bosch, the Ridgid (which is the best value), and the DeWalt. In real-life terms, you cannot go wrong with any one of these four compound-miter saws, but even the best of this group has some shortcomings.
For more photos and details, click the View PDF button below:
View PDF