Design
The Well-Designed Walk-In Closet
Often crammed into whatever space remains on a floor plan, closets deserve thoughtful location, layout, and outfitting.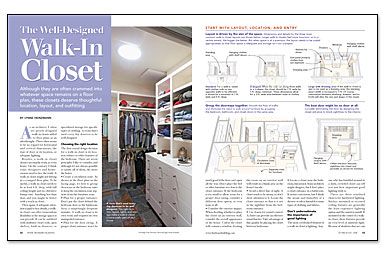 Synopsis: Many walk-in closets are added to master suites as afterthoughts. Architect Lynne Heinzmann has a better idea: planning the walk-in closet from the get-go so that it has the space it deserves. A good walk-in closet starts with an appropriate layout, location, and entry, and it's finished with a proper outfitting, whether with rods for hanging storage, shelves, racks, or drawers. Heinzmann also discusses the importance of good lighting, emphasizing that natural light is always a good option. This article includes a sidebar about making a custom closet with prefabricated components.
As an architect, I often see poorly designed walk-in closets added to floor plans as an afterthought. There often seems to be no regard for horizontal and vertical dimensions, the type of door or its location, or adequate lighting.
Besides, a walk-in closet doesn't necessarily work in every home. On the contrary, I think some designers and home-owners need to face the truth: A walk-in closet might not belong in a cramped floor plan. To be useful, a walk-in closet needs to be at least 4 ft. deep, with full ceiling height and no obtrusive bump-outs. Anything less than that, and you might be better with a reach-in closet.
Then again, if adequate attention is paid to key details, a walk-in closet can offer tremendous flexibility in the storage spaces it can provide. It can be outfitted with multitier closet rods, open shelves, built-in drawers, or specialized storage for specific types of clothing. A room that's used every day deserves to be well designed.
Choosing the right location
The first crucial design decision for a walk-in closet is its location relative to other features of the bedroom. There are seven principles I like to consider, and although it's not always possible to satisfy all of them, the more the better.
Create a circulation zone. It's best to group doorways in the bedroom suite to keep the circulation zone separate from the furniture zone.
Plan for a proper entrance. Don't put the closet behind the bedroom door or the bathroom door, a surprisingly frequent mistake. A walk-in closet is its own room and requires its own unimpeded entrance.
Plan for the door swing. A proper closet entrance won't be much good if the door can't open all the way. Don't place the bed or other furniture too close to the closet entrance. If the bedroom is too small to allow room for a proper door swing, consider a different door option, or even none at all.
Consider the exterior impact. When deciding whether to place the closet on an exterior wall, consider the overall appearance of the house. Unless the closet will contain a window, locating the room on an exterior wall will result in a blank area on the house's facade.
Avoid a direct line of sight. A closet tends to be messy, so don't draw attention to it. Locate the closet entrance so that it is not in the sightline from the bedroom entrance.
For more photos, illustrations, and details, click the View PDF button below:
View PDF