Design
A Brick Rehab Meets LEED's Highest Standards
Solar panels aside, you can't see the upgrades that make this downtown remodel so energy efficient.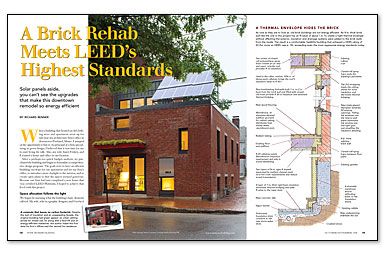 Synopsis: When architect Richard Renner saw an old brick store for sale, he envisioned it as a site both for his practice's office and for his own residence. After a great deal of work and a strong focus on green design, Renner ended up with both a new office and a new home, certified LEED Platinum. This article includes details on insulating the building, strengthening the roof, creating a new slab, and installing photovoltaic panels on the roof. Renner and his wife, along with a small crew of hired helpers, also installed a vegetative roof on the building; that project required only about three hours' work.
Magazine extra: Watch a video tour where Richard Renner demonstrates how he and his wife transformed a bald, rubber roof into a living, green one.
When a building that housed an old clothing store and apartment went up for sale near my architecture firm's office in downtown Portland, Maine, I jumped at the opportunity to buy it. As principal of a firm specializing in green design, I believed that it was time for me to start living the talk. Also, my wife, Janet Friskey, and I wanted a home and office in one location.
After a perhaps too-quick budget analysis, we purchased the building and began to formulate a comprehensive design program. The goals were to have an efficient building envelope for our apartment and for my firm's office, to introduce more daylight to the interior, and to create open plans so that the spaces seemed generous. Because our firm had just completed a new home that was certified LEED Platinum, I hoped to achieve that level with this project.
Space allocation follows the light
We began by assessing what the building's basic elements offered. My wife, who is a graphic designer, and I worked together on the design of the residence, and my staff and I collaborated on the office.
In terms of overall design and structure, we knew we wanted the office on the lower level because the storefront would give us visibility and light. On the other hand, the upper level had high ceilings and lots of windows, so it was ideal for the residence. The upper level also had potential access to the roof, so we could install a deck and maintain a solar collector and vegetative roof. At the suggestion of Jim Robbins, the senior architect in my office, we raised part of the roof to create a study loft and a light monitor.
A demolition plan minimizes impact
Regardless of its complexity, a renovation project will run more smoothly and minimize its environmental impact by having a demolition plan. The plan details what elements will be removed and how they will be dealt with, whether reused, recycled, or treated as waste. Here in Portland, a demolition plan is required by code to control debris removal.
The first phase of our plan required gutting the interior. All finishes and non-load-bearing elements were removed because they were of poor quality, were in the wrong places for my ultimate design, or restricted access to the exterior walls for insulating.
In an effort to minimize the amount of waste that ended up in the landfill, our demo plan specified that demolished material be taken to a municipal facility that sorts, recycles, and reuses waste. Similarly, construction waste was sorted on site.
In hopes of saving the existing lower-level slab, we excavated carefully around the edges to install perimeter drains, but we found that there were no footings. After realizing how out of level the existing slab was and assessing how much of that slab had to be removed for underpinning and drain installation, I gave in to the realization that the slab had to go.
For more photos, drawings, and details, click the View PDF button below:
View PDF