Tools & Materials
Spinning screed for concrete finishing
The Spin Screed system offers ease and convenience for a tedious job.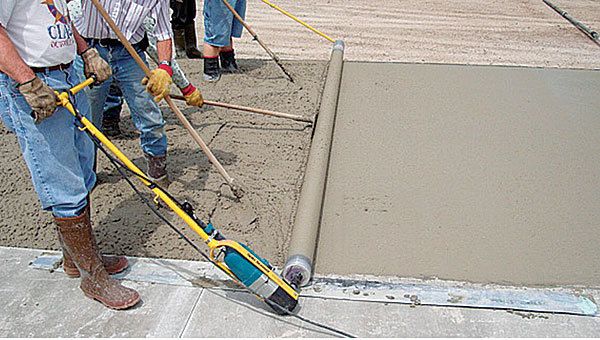 ■ Manufactured by Spin Screed Inc.
■ marshalltown.com/spin-screed
■ Cost of complete system with a corded drill motor starts around $1500
To me, the strain of pouring concrete centers on the strikeoff, during which you remove the excess concrete in preparation for the final finish. It can be slow, brutal work. Recently, my partner and I completed our largest pour to date, an 11,000-sq.-ft. parking lot.
With 208 yd. of concrete on order, I knew that using a standard screed rail would be tiring. I didn't want to use a vibrating screed because it can cause heavier aggregates in the concrete to sink, and the water and lighter slurry to rise, leaving a weak finished surface. On a whim, I took a chance on the Spin Screed system.
The Spin Screed is basically a 4-in.-dia. aluminum pipe with a long T-handle on each end. The handle on the live end of the system houses a heavy-duty right-angle drill, which is chucked into the pipe. The other end of the screed has an idle handle, which is used to guide the pipe and to keep it parallel to the concrete forms as it is pulled by two operators walking backward. The drill spins the pipe opposite the direction it is being pulled, which screeds off high spots and fills in low spots. The concrete is ready to bull-float instantly. This tool can be used with concrete having a slump of 3 in. or more.
The Spin Screed is available in kits that include aluminum pipes up to 22 ft. in length. Shorter lengths are available for $20 per ft. The full-length kit weighs less than 100 lb., so the whole system is easy to take apart, clean, and store.
Best of all, though, the tool is easy to learn to use. If you ask me, the Spin Screed is to concrete work what the nail gun is to roofing.
Photo: Courtesy of Dan Mathis