Tools & Materials
Tool Test: Laser Measures
Handheld laser measuring tools are more affordable than ever, but are they accurate enough to replace a tape measure?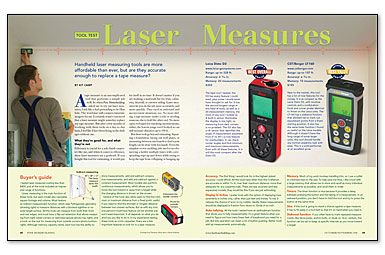 Synopsis: For most finish carpenters, there is nothing more familiar than a measuring tape. But is today's technology ready to move measuring tapes out of tool belts? In this tool test, finish carpenter Kit Camp takes a look at handheld laser measures, electronic devices that take measurements, and often do a whole lot more. The current field of laser measures can perform tasks such as indirect measuring and auto tallying. They also have timers, memory, and extensive range. For the test, Camp rates the Leica Disto D3 as best overall and the CST/Berger LT-160 as best value. He also includes a sidebar on tips for accurate measuring, including calibrating a tape with a laser measure; aiming for solid targets; and holding the measure steady.
Magazine extra: Watch editor Justin Fink demonstrate the basic functions of these tools, from taking and storing measurements to calculating square footage.
A tape measure is an uncomplicated tool that performs a simple job well. So when Fine Homebuilding asked me to try out laser measures, I felt like a kid pretending to be Han Solo. The word laser still conjures futuristic imagery for me. I certainly wasn't convinced that a laser measure might someday replace my tape measure. But after a few months of working with these tools on a day-to-day basis, I feel like I have been living in the dark ages without one.
What they're good for, and what they're not
Efficiency is crucial for a solo finish carpenter like me, and when it comes to efficiency, these laser measures are a godsend. If you bought this tool for estimating, it would pay for itself in no time. It doesn't matter if you are making a materials list for trim, cabinetry, drywall, or exterior siding. Laser measures let you do the job more accurately, and more quickly. They excel in awkward and inconvenient situations, too. No more sliding a tape measure under a sofa or needing someone else to hold the other end. No more open-reel tapes for extra-long measurements, either; the lowest-range tool I looked at can still measure distances up to 150 ft.
But these tools go beyond estimating. Squaring a foundation, laying out wall plates, or measuring between rim boards to find a joist length can be done with less hassle. Even the simplest crown-molding jobs used to involve moving a ladder multiple times with corresponding trips up and down while trying to keep the tape from collapsing or hanging up as I extended it toward a corner. Now I just climb the ladder and push a button.
Don't throw out your tape measure yet, though. These tools don't do short measurements (6 in. and under) or measure from outside to outside corners (not without two people, at least). They also can't be used to mark the length of a rafter or a piece of baseboard before cutting. And although manufacturers claim that the AA or AAA batteries in these tools will last up to 10,000 measurements, that's a limitation that I will never have to worry about with my trusty tape.
One of the best things about these sophisticated tools, though, is how simple they are to use. For basic measuring operations, there is a short learning curve. You just set the tool where you want to measure from and press a button to activate the laser beam. Once you verify that the laser is hitting where you want the measurement taken to, you push the button again, wait for the beep or click, and you're done.
Best of all, the measurements produced are as accurate, if not more so, than the measurements I get with a tape measure. I frequently measure to 32nds of an inch, and although measurements that accurate are interpretive with a tape measure, a laser is dead-on. In fact, I got tight-fitting coped joints in both crown and baseboard using measurements from every tool in this review.
For more photos and details, click the View PDF button below:
View PDF