Design
A Green Oasis in a Hot, Dry Climate
Defined by a mosaic of indoor and outdoor spaces, a new house tames the sun and adapts a traditional Southwest style for an established neighborhood.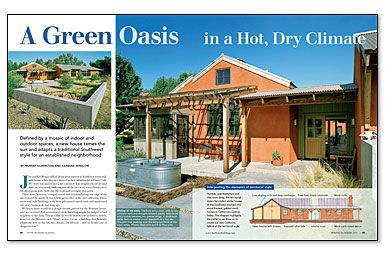 Synopsis: The neighborhood might have been built up with faux Tuscan villas, but that wasn't going to stop author/architects Murray Silverstein and Barbara Winslow from fulfilling their clients' dream of a territorial-style home. Traditionally, this style calls for a one-room-deep floor plan wrapped around an interior courtyard. In this case, the authors adapted the style to their clients' needs and to the climate. The result is a mosaic of indoor and outdoor zones joined by covered walkways. Cooling was an important consideration, too, and this house features deep roof overhangs, cross ventilation, and concrete-slab floors that moderate indoor temperatures on blazing summer days.
Jim and Kit Bruner talked about their interest in Southwest territorial style houses when they first showed us their suburban lot in Davis, Calif. We were fascinated, and a bit confused. The neighbourhood around their site was nearly built out, and all the two-story stucco homes were Mediterranean style, with clay-tile roofs and wrought-iron gates.
There were, however, vestigial woods and farmland along one edge of the site, toward the north. It was a little green slice of the old California, where territorial-style buildings with their galvanized-metal roofs and unadorned one-story forms took root long ago.
We knew there would be a design-review process for the Bruners' house, and we worried that a territorial-style building might be judged a bad neighbor to the faux-Tuscan villas. In words dear to our architects' hearts, however, the Bruners said, "Don't worry. Create a building that honestly adapts the style to this lot, this climate, our lifestyle — and we'll take care of design review."
And that is what happened. We adapted the style to the Bruners' needs and to the climate. The result is a building that, while visually an "outlier," is generally considered to be entirely at home in its neighborhood.
Creating rooms, inside and out
Well before imagining a floor plan, we studied the site plan, thinking of it as a sequence of indoor and outdoor spaces. Our goal: Identify the zones on the lot best suited for particular kinds of spaces. To give the Bruners the house they envisioned, we needed eight distinct zones: four interior and four exterior.
At the drawing board, we shuffled these eight zones around the site plan to study their potential relationships to one another and to the land. We knew the common areas — kitchen, living, dining — would be one large space: a great room near the front of the site, closest to the street (1). Immediately to its east would be a front entry court (2). Close to the entry, an office and a guest room would form another zone (3). These two rooms act as a buffer to the master bedroom and bath (4), which are the most private spaces in the house, with views to the woods and farmland along the northern edge of the site. We knew an interior court — a protected oasis, so to speak — was central to the territorial tradition and ideal for this climate, so we let zones 1, 3, and 4 wrap themselves around a large open space (5) that has two parts: an "inner" green court and a swimming-pool area. A garage and a mudroom, along with a guest suite, form the last of the interior zones (6). Placing them toward the rear of the site allowed us to create two more outdoor rooms: a raised-bed garden court with an outdoor barbecue (7) and a small entry court for the guest unit (8). The final site plan is a mosaic of indoor and outdoor zones that interlock and define each other.
For more photos, drawings, and details, click the View PDF button below:
View PDF