What's the Difference: Trellis, Arbor, and Pergola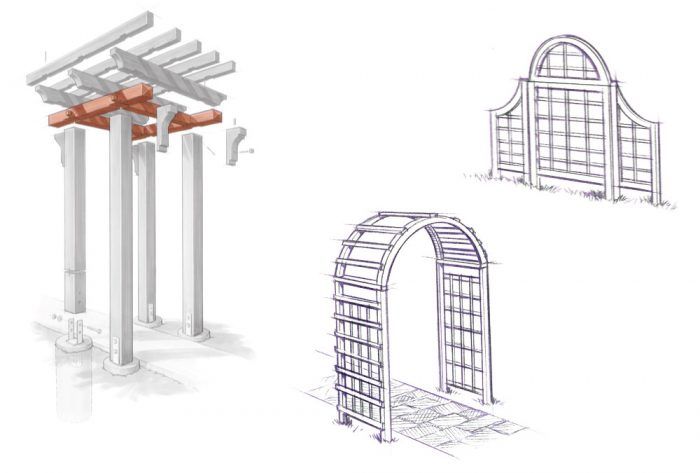 Although the terms often are used interchangeably, trellises, arbors, and pergolas are distinctly different structures. One or more of these structures might become part of a complete landscaping plan that might also include plantings, lighting, and a patio or terrace.
A trellis is typically a latticework built to support climbing plants or vines. It can be as simple as a panel attached to the side of a building, or it can be freestanding in a garden or yard.
An arbor usually incorporates a trellis into its structure, creating a tunnel-like passageway of climbing plants. Arbors have a continuous run of latticework from one side of the "tunnel" to the other, often in an arched shape.
Pergolas, too, are designed to support climbing plants. Unlike arbors, though, pergolas have posts supporting an open, roof-like structure. They're most commonly used to shade a walkway or a deck.
These structures typically are built from wood, so choosing a species that will stand up to weather exposure is key. This is doubly important when part of the structure is in contact with the ground or below grade. Pressure-treated wood is a safe bet, but unless it's painted its distinctive color might be a turn-off. Softwoods that are naturally rot resistant, such as cedar or redwood, are another option, although they can be pricey. Look for wood that's locally harvested, or certified as sustainably harvested.
---
Read the complete article …
Build a Craftsman-style Pergola
Durable materials and strong joinery mean this great-looking gateway will be around for a long time.