How-To
A new code requirement for decks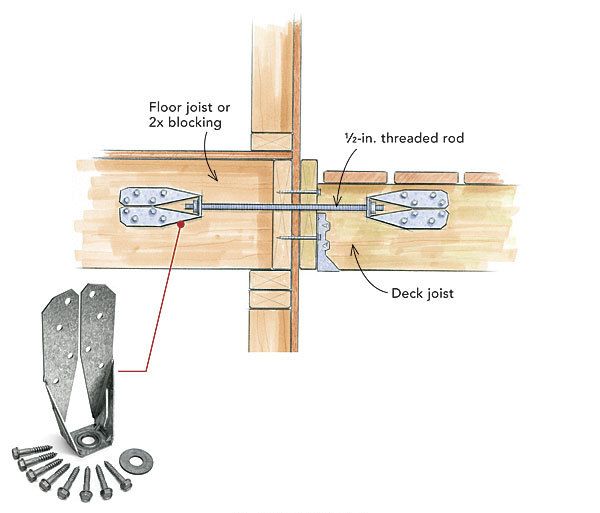 Q:
I heard recently that the International Residential Code (IRC) has a requirement about lateral loads for decks. I've always used 1/2-in. lags or through bolts to attach ledgers to rim joists, and I assumed this fulfilled the load requirements. Is the lateral-load requirement new? Will I have to do more than lag or bolt the ledger to the rim joist?
Jason Walsh, via email, None
A:
Associate editor Chris Ermides replies: No and yes. The section from the International Residential Code to which you're referring (R502.2.2) says that decks have to be designed for both vertical and lateral loads. That part has been on the books for years and is meant to keep the deck from pulling away from the house. But the 2009 IRC does have a new provision that gets specific about what's required to support a lateral load.
The new code section (R502.2.2.3) states that "hold-down tension devices" be installed in at least two locations per deck. Whether you are attaching a deck that's 3 ft. long or 30 ft. long, you will be required to use the hold-down tension devices in two locations.
Each hold-down device must "have an allowable stress capacity of not less than 1500 lb." The hold-down devices might be tough to find, though, because right now, only Simpson's DTT2Z Deck Tension Tie (www.strongtie.com) meets the design-load requirements.
To learn more about the IRC's new deck-code changes and to join a discussion about how to implement them, look for Mike Guertin's post titled "2009 Deck Code Changes—Pay Attention!" in our "Daily Fix" blog.
Drawing by: Dan Thornton, photo: Courtesy of Simpson Strong-Tie