Tools & Materials
Zip Systems Wall and Roof Sheathing Review
Huber Engineered Woods introduced these two new new structural-sheathing products just over a year ago. They are installed the same as typical OSB or plywood sheathing to create a weather-proof and draft-free barrier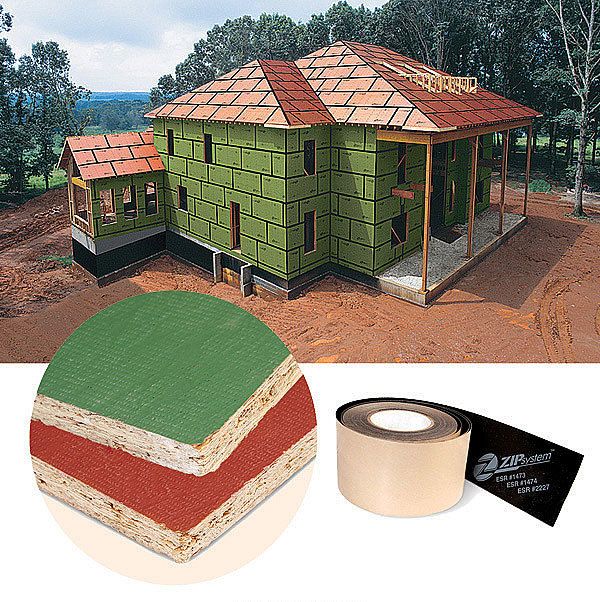 Just over a year ago, Huber, the maker of AdvanTech sheathing, introduced two new structural-sheathing products: Zip System Wall and Zip System Roof. Both oriented-strand-board (OSB) products have an impregnated kraft-paper facing and are marked, cut, and installed the same as typical OSB or plywood sheathing. These sheathing panels are different, however, because they also act as weather-resistive barriers. After installation, the seams of each panel are sealed with a proprietary tape to dry in the house. Walls don't need an additional weather-resistive barrier such as housewrap, and roofs don't require felt paper or synthetic underlayment.
Once all the seams are taped, the 7⁄16-in.- thick, green-colored wall panels create an essentially draftproof system with a perm rating similar to conventional sheathing covered with housewrap. Because there is no housewrap, though, the transition between the sheathing and the nailing fin of windows and doors is just taped in the same fashion as the panel seams.
The 1⁄2-in.-thick, reddish-brown roof panels are similar to the wall panels, but they aren't designed to pass water vapor as easily and therefore are not interchangeable with the green panels. The seams on the roof are taped in the same way; and roofing is applied directly to the sheathing.Those who are worried about voiding a shingle warranty by omitting the traditional underlayment will be pleased to know that Certainteed, Elk, Iko, Owens Corning, and Tamko have all signed off on the Zip System, and more roofing manufacturers are sure to join that group.
Another plus is that as long as the total roof load doesn't exceed 80 psf and as long as the trusses or rafters aren't spaced more than 24 in. on center, the true 1⁄2-in.-thick Zip System roof panels don't require the use of H-clips to stiffen the sheathing. There is one limitation, however: The Zip System is not approved for roof pitches of less than 2-in-12.
Huber claims that both their wall and roof Zip panels can be left exposed for up to 90 days, and they back both products with a 30-year limited warranty. The systems are also recognized by the IRC (International Residential Code) and IBC (International Building Code).
As with any lumber product, pricing varies depending on location. My local lumberyard in central Connecticut provided me with a cost comparison of the materials needed to install 3200 sq. ft. of CDX plywood, OSB, and the Zip System Wall, not including labor. As of this writing, CDX with housewrap came out to 70¢ per sq. ft., OSB with housewrap was 40¢ per sq. ft., and Zip System Wall panels with the necessary 90-ft. rolls of 3-in. seam tape (not including the $130 tape dispenser) were 46¢ per sq. ft.
According to Massachusetts framing contractor Brian McCarthy, the Zip System has its benefits, especially during the cold, wet New England winters he works in. "Sure, it's more money than OSB and housewrap, and taping all those seams is a slow process, but I sure like the idea of being dried in so quickly without housewrap and roofing felt."