Design
Recycled Window Cabinet
Rather than end up in a landfill, this old single-pane window has a new life as a medicine cabinet door.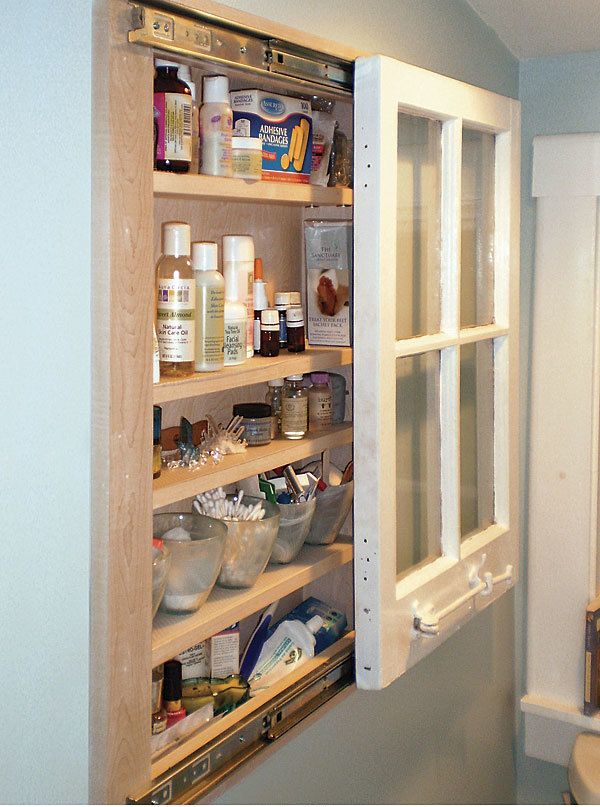 My 1926 cottage was totally remodeled, and the original pine windows were replaced with more energy-efficient ones. My love for all things old made me save a few of the cottage's original windows.
As part of the remodel, we reconfigured the bathroom, a really tight space. A normal medicine cabinet would not work in the space allotted, and I wanted something not so cookie-cutter. Working with my cabinetmaker, we decided to use a window and have it slide to the side, rather than open out into the room. The window was mounted on drawer slides that would typically be used with a kitchen drawer. We left the original brass window pull in place as a handle to slide the window to the right to open the cabinet. A fresh coat of white paint on the window matched it to the rest of the upstairs trim. The inside cabinet box was constructed of birch plywood and stained an opaque white, like the rest of my bathroom cabinets. It has adjustable shelves to accommodate a variety of bottles, tubes, and jars. The cabinet works perfectly for this particular bathroom and is a great conversation piece.
Photo: Sherry Krum