What Happened to the Radial-Arm Saw?
Sliding compound miter saws and portable tablesaws made them obsolete, but some remember them fondly
The evolution of power tools has been dramatic in the last few decades. Actually, it's been dramatic for longer than that when you think that just a few generations ago framers were still swinging hammers, trim carpenters were using  miter boxes, and cabinet makers had to know the difference between a cross cut saw and a rip saw. It's interesting how some outdated tools seem to hang on because they do one thing well (think biscuit jointers and aligning glue-ups). Other tools seem to disappear. Raise your hand (or post a comment) if you still use a radial-arm saw…
(SILENT PAUSE)
That's what I thought. Once the staple of any carpentry shop and home garage, this multi-talented cutting tool has fallen out of favor over the past decade with new innovations in the power tool market. (In fact, I couldn't find a single Fine Homebuilding article on the subject.) And the topic of its demise recently surfaced in the Breaktime forum. (free registration required)
Where did all the radial-arm saws go?
"I was looking around last night and noticed that radial-arm saws have largely disappeared from the consumer market place," writes Mike Mills. "I did notice that the top dollar chop saws, err, … excuse me, I meant to say, 'miter saws' are now coming with a sliding arm. This makes them very much like a radial-arm saw."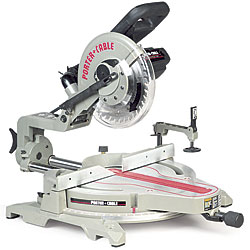 In short, sliding compound miter saws (the bigger cousins of the chop saw) have taken the place of the radial-arm saw. With a blade diameter as large as 12 in., big cross-cut capacities, and an ever-growing number of do-dads and whiz-bang features, these tools have many benefits over their predecessors.
"They are lighter, way more accurate, hardly ever go out of adjustment, and safer," reads one reply in the forum.
"Radial-arm saws tended to bite people because the rotation of the blade could hog the saw into the work and toward the operator," reads another reply. "It's safer because you plunge the saw into the work and push against the rotation. If it jams it tends to get thrown out of the work, not into it."
Long live the radial-arm saw
While the high-end chop saws do offer a lot of features, radial-arm saws did have some unique capabilities that can't be reproduced in a single tool. For example, have you ever tried ripping lumber on a sliding compound miter saw?
"Some things like cutting dados are easier on the radial-arm saw and you can raise and lower the blades on a radial-arm saw," another comment reads. "Also you can rip boards but to me thats what my table saws are for and much less dangerous."
Mike Hennessy, another breaktime member said he's still a fan: "My RAS was my first stationary power tool. It still has an honored spot in my workshop. I use it far more than my 'chop' saw when building furniture-type stuff," he said.
Radial-arm saw memories
When I was a kid, I used to spend a lot of time in my step-dads shop (he was a contractor in the Bay Area), and the beefy radial-arm saw that was parked in front of the piles of building lumber is the one image that sticks in my mind to this day. Everything about it screamed tool. But that was a long time ago. Since then, I've never pulled the trigger on one, nor do I plan to. 
What ever happened to the radial arm saw?
Long live the radial arm saw? Photo via Flickr (safety glasses added via photoshop)