Opinion: Questions for the Man with the Big House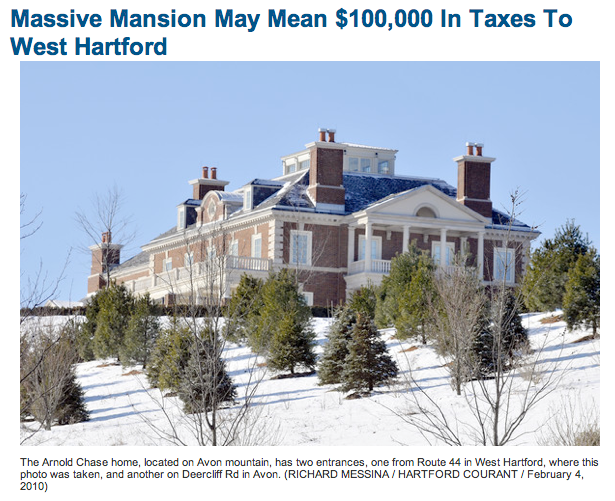 Fellow editor Rob Yagid passed me this recent news item that showed up in the Hartford Courant. (see screenshot above)
It seems that a Mr. Arnold Chase has built himself a house of rather sizable proportions and as the article describes, will pay the princely sum of about $100,000 into the town coffers every year for property taxes. Great for West Hartford, I guess. But I'd like to pose a few questions to Mr. Chase about this edifice. Here goes:
1. Is this where the phrase "pile of bricks" comes from?
2. When was the first time you got lost going from your bedroom to the bathroom?
3. Will you qualify for your own zip code?
4. Was the construction of the house an attempt on your part to singlehandedly reverse the local building slump?
5. Is it true that you've invited the entire city of Port-au-Prince to come spend the weekend while their place gets put back together?
6. Did you think you were going to save money by not hiring an architect?
7. True or false. All those bricks are tiny photovoltaic panels that produce all the electricity that your house consumes.
8. True or false. This is just the model home for a really swell development.
9. How much of the house will you never visit?
10. Are you going to sell Christmas trees to offset your property taxes?
Editors Note:
Read the three responses to this commentary from Arnold Chase in the comments section below. Mr. Chase highlights the "extraordinary energy-saving measures" that went into the building, which includes geo-thermal systems, R-values greater than 50 in the exterior walls, underground earth-mass HVAC utilization, and total DDC operation of all valves and air handlers. "For 2009, the property was carbon POSITIVE," he notes.
And read a follow up response from the author: "Thanks for clarifying the information, Mr. Chase. My apologies to you and Mr. Greenberg. In fact, I'm not in the habit of judging a house from one photo, but in this instance I did because it was the only shot in the Courant's article. Before I read the article, I didn't know your house existed. And no, this wasn't an attempt at a balanced look at your house; it was an attempt at humor. (Okay, comedy may not be my strongest suit.)"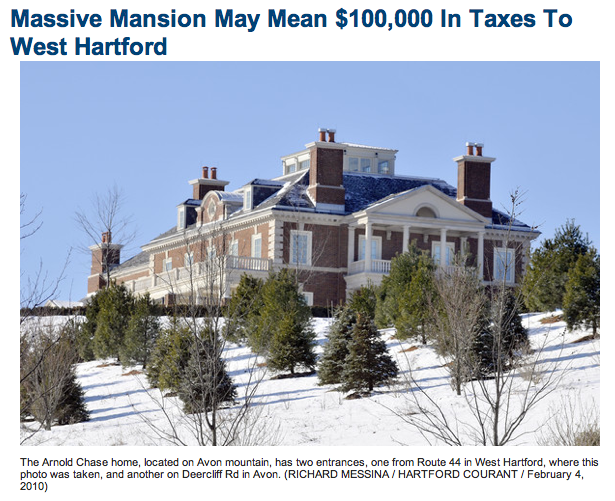 50,000 square feet of living space. Photo by RICHARD MESSINA / HARTFORD COURANT / February 4, 2010 on HartfordCourant.com.