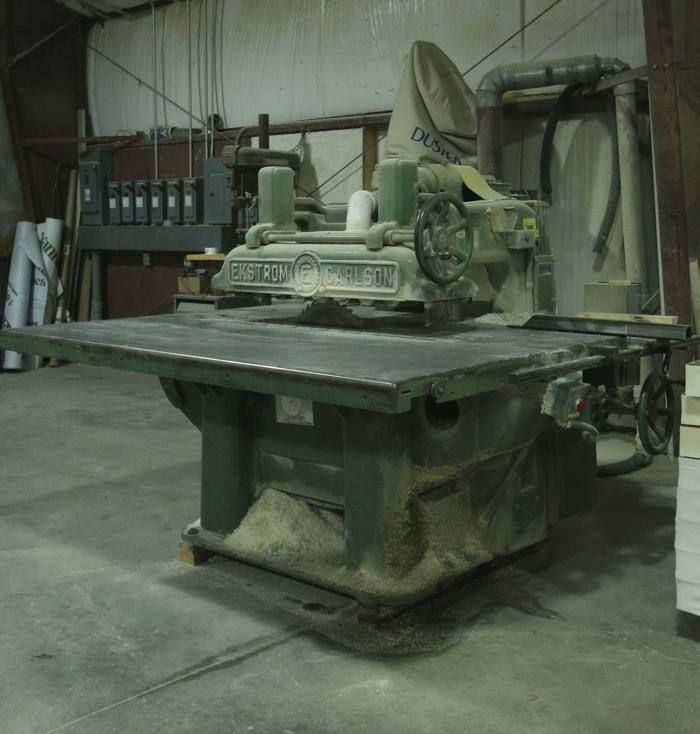 I spent last weekend with the folks from Yankee Barn Homes in Grantham, NH. They invited me to stay in their model home and to take a tour of their manufacturing facility. I gladly accepted. I'm happy I did, because I was truly impressed with both the business and the timber frame homes they're producing. (more on that in another post) 
Saturday, we walked the facility, which was anything but the factory type setting I was expecting. It had more of a lumberyard feel with several outbuildings designated to the construction of each component of the home (i.e. wall assembly, roof assembly, timber shop)
While I was enthralled with their building process, I kept finding myself drifting from the small group to briefly check out all the tools within their shops. They had some beauties, like the huge Ekstrom Carlson saw. I'm pretty sure it's a model E straight-line RipSaw. If it is, its arbor is powered by a 20hp direct drive motor. We just did a review on portable table saws in the last issue, so looking at this beast in comparison was just downright humorous.
Does anyone have any information on the tools pictured here? If so, please post what you know below. 
Also, if you're a fan of old tools, check out the entries in our Jewel of a Tool photo gallery contest. If you have photos, share them, or just tell us about some other impressive tools that you've come across. They don't have to be big or old, just something you have found interesting.
Elkstrom Carlson Model E Straight-Line rip saw.
Now that's a monster power planer. It's made by Makita, and used to take some of the mill marks out of the massive Douglas Fir timbers. Didn't get a model number, sorry.
Mafell chain mortiser. Chisles are for wimps.
Chuck Wood of Yankee Barn Homes showing off the planer in the timber shop.
There were a few of these in the shop. All DeWalts from the 1950s, all big and slightly scary. I've heard many horror stories that involved radial arm saws.
This was on another radial arm saw. Do you have any info on the company?
5,000lb hydraulic radial arm saw. Set up as a dado saw to cut notches and tenons in the big timbers. It was orginally made for the U.S. Navy by DeWalt.