Concrete: Summer vs. Winter Mixtures
What's the Difference: Learn how different seasons require different techniques when working with concrete.
When it's slightly overcast and temperatures are consistently in the 70s, pouring concrete comes with few surprises. That's seldom the case when the truck backs down the driveway and the temperature is below freezing or in the high 80s. Different seasons demand a little extra planning and work. Understanding the differences in each type of concrete mixture ensures that your slab, patio, or walkway cures correctly.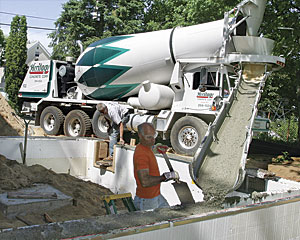 Justin Fink
Concrete needs water to cure properly, and the slower it cures, the better. But on hot summer days, the water in the mix begins evaporating as soon as it comes off the truck, causing concrete to dry too quickly. Admixtures such as water reducers or superplasticizers can be added to help retard the cure and reduce water demand, and both types increase workability and strength. Once the concrete is set and finished, keeping it wet is the best way to…
Start your 14-day FREE trial to access this story.