Tools & Materials
Concrete: Summer vs. Winter Mixtures
What's the Difference: Learn how different seasons require different techniques when working with concrete.
When it's slightly overcast and temperatures are consistently in the 70s, pouring concrete comes with few surprises. That's seldom the case when the truck backs down the driveway and the temperature is below freezing or in the high 80s. Different seasons demand a little extra planning and work. Understanding the differences in each type of concrete mixture ensures that your slab, patio, or walkway cures correctly.
Keep Hot Concrete Wet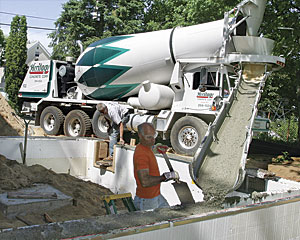 Justin Fink
Concrete needs water to cure properly, and the slower it cures, the better. But on hot summer days, the water in the mix begins evaporating as soon as it comes off the truck, causing concrete to dry too quickly. Admixtures such as water reducers or superplasticizers can be added to help retard the cure and reduce water demand, and both types increase workability and strength. Once the concrete is set and finished, keeping it wet is the best way to strengthen the curing process. A lawn sprinkler set to go off at regular intervals can help to ensure that the concrete doesn't dry too quickly.
Keep Cold Concrete from Freezing
Justin Fink
Cold weather creates an opposite set of problems. The amount of water in the cement mix is greatly reduced, which in turn reduces the setting time and gain of strength. If concrete freezes, it can become damaged.
The best way to increase the setup time of concrete is to add hot rather than cold water to the mix. While most companies switch to hot water automatically when it's below 40°F, it's a good idea to double-check. Another option is to use a finer cement, type III, which generates more heat and has a higher early strength. Admixtures like calcium chloride (salt) also work as accelerators with reinforced concrete.
Concrete generates heat as it cures, which works to your advantage in the winter. However, you may still need to cover the work with thermal curing blankets to retain heat. A layer of plastic and straw also works.