A Net-Zero-Energy Home for $180,000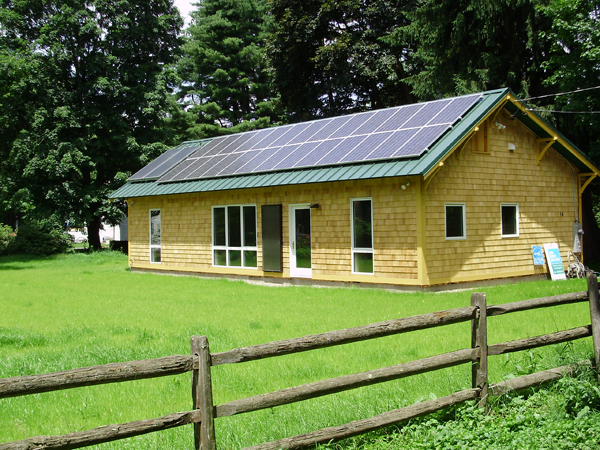 Or maybe that should be $170,000 given that the house in Turners Falls, Mass., just won a $10,000 prize from the Northeast Sustainable Energy Association. At this year's BuildingEnergy10 conference in Boston, NESEA presented its Zero Net Energy Award to owners Tina Clarke and Doug Stephens, along with their builder, Bick Corsa.
To be eligible for the award, a house has to be occupied for one year so that energy-use data can be documented. During its first year of occupancy, this year's award winner, which is 1,152 sq. ft., produced two and a half times more energy than it consumed. Yes, I said "two and a half times." I guess we need another term besides "net-zero." "Net-producer," maybe, or "net-positive"? How about "net-smart"? Or maybe just "not-so-stupid."
As he was accepting the award, Bick Corsa described this project as "the simplest house I ever built." It is a slab-on-grade structure, with 12-in.-thick double-stud walls filled with cellulose (R-42). The truss-framed roof has another 30 in. of cellulose (R-100). The windows are triple-glazed units from Thermotech. And when the sun alone isn't enough, the home is heated with a small mini-split, air-source heat pump from Fujitsu. Even without the photovoltaic array, the home's annual utility bill would have been only $400.
I really applaud NESEA for honoring this project. After all, this is not a sexy house. The design couldn't be simpler, which of course has a lot to do with how affordable the house was. More important, though, I applaud Tina, Doug, and Bick for building the thing. This is one example of what we need a lot more of: simple, smart, sustainable, and affordable homes. To learn more about this house go to http://www.zeroenergypowerhouse.com/.