Play Fine Homebuilding's Game "The Inspector"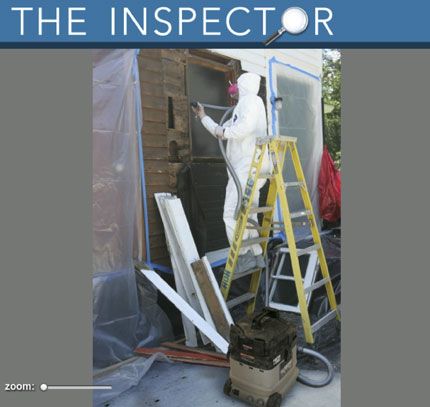 PLAY THE LATEST INSTALLMENT OF
THE INSPECTOR.
Here's how the game works: Read the intro describing the problems in the photo to get an idea about what code or safety problems The Inspector is looking for. Click on any detail in the photo that you believe might match the problems we're looking for. Once you make your first click, a timer will keep track of how long it takes for you to find all of the errors or problems. See how fast you can find them. Enjoy!
If you're new to The Inspector, check out a previous challenge: Help the Inspector pass a building code refresher. Untangle the mess in a docotored photo of an electrical panel. Keep some carpenters from falling off some scaffolding. And spot six things wrong in a doctored photo from the article Rebuilding a Brick Chimney, featured in Fine Homebuilding issue #201.
We encourage you to post a comment to brag about your score or to sound-off about our game (or both).
Good luck!
Find 5 ways to reduce the lead-paint health risks in this remodeling project. Play The Inspector.
Find the four framing errors, and help The Inspector firm up this flimsy staircase. Play The Inspector.
Find four details this plumber needs to fix before the rough-in is complete. PLAY THE INSPECTOR GAME.
Find four crawlspace errors. Play the Inspector Game
Spot six serious problems with this assembly. Play the Inspector game
Find five safety tips to keep these roofers from falling and hurting themselves. Play The Inspector.
Find five ways to keep this deck on solid ground. Play The Inspector.
Find five ways to keep these painters from falling down on the job. PLAY THE INSPECTOR
Find 6 likey details that would make this deck unsafe. Play The Inspector
Find five issues that will get in the way of a perfect paint job. PLAY THE INSPECTOR
Find the six errors that the builder didn't get quite right on this Colonial reproduction. PLAY THE INSPECTOR GAME