Design
Craftsman Mastery: Channeling the Greene Brothers
A new house builds on the tradition forged by America's greatest Arts and Crafts architects.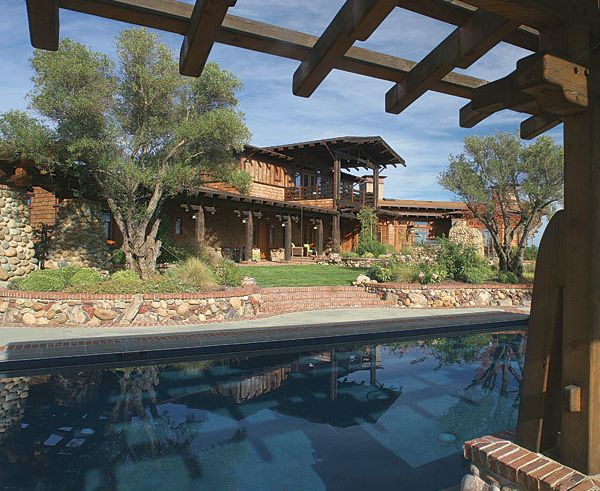 Synopsis: After selling the company that bears his name, sausage king Bruce Aidells had the resources to build the home of his dreams: a country house based on the work of Charles and Henry Greene, two California architects who in the early years of the 20th century reshaped the Indian bungalow to fit a new place. Aidells and his architect identified elements from various Greene brothers houses that they then incorporated into a new home: large features such as a grand staircase and timber-frame sleeping porch, and small ones such as rounded edges on intersecting pieces of wood. One place where Aidells broke from the Greene brothers' style was the kitchen, a world-class food preparation area befitting a food professional. The article includes stunning photographs by the author that illustrate the Greene brothers' Arts and Crafts style on the large scale as well as in small details.
Twenty-seven years ago, when this magazine was in its third year, we got a letter from one of our readers commenting on the houses we were publishing. He wrote, "You need to publish less young and green, and more Greene and Greene."
The enduring appeal of the Greene brothers' work is undeniable, and like oceanfront property, they're not making it anymore. But that doesn't stop people from trying. During my 30 years with this magazine, I've seen lots of projects inspired by their work. Truth be told, only a few of them have even come close to capturing a glimmer of that old Greene brothers' magic. The problem is simple: You can't just cop a couple of Greene brothers' details and expect the design to hold together. In their most memorable houses, Charles and Henry Greene designed everything, and the houses were built with exemplary care out of the best materials. That is why their correspondence with their clients was often about the money.
It started with antiques
If you like gourmet sausages, you've probably heard of Bruce Aidells. He's the cheerful bearded chef on the label looking up at you from the sausage cooler in your grocery store's meat department. In the mid-1980s, Aidells got on board the gourmet food train with a sausage startup that caught fire.
A few years later, he and his wife, chef and restaurateur Nancy Oakes, were in the midst of remodeling their kitchen when he paid a visit to a local antique store. There, he found three pieces of English Arts and Crafts furniture—an armoire, a linen press, and a buffet sideboard, all in quartersawn oak—that he knew would be right at home in their reconfigured kitchen.
These pieces turned out to be the gateway antiques that led to a full-blown Arts and Crafts addiction. Pretty soon, Aidells was touring the Thorsen House in Berkeley, one of the Greene brothers' "ultimate bungalows." A trip to the Greene brothers' mecca, the Gamble House in Pasadena, soon followed. Aidells was hooked on Arts and Crafts, and he didn't want to stop with the occasional sideboard.
In 2002, Aidells sold his share in the company that bears his name and began a new career as a cookbook author. All of a sudden, he had the resources to build the home of his dreams: a country house based on the work of the Greene brothers, with a great room that would include a world-class kitchen. Riding a hunch, Aidells picked a Bay Area architecture firm that had never designed a house like this. But John Malick & Associates of Emeryville impressed Aidells with their track record of completing ambitious houses in a variety of traditional styles. Greg Klein, a principal at the firm, had long admired the Greenes' work. He and Aidells began identifying the elements of various houses that could be extracted and woven into a revival of the Greene brothers' style.
For more photos and details, click the View PDF button below:
View PDF