Tools & Materials
Paint-Grade Trim: Finger-jointed pine, poplar, or MDF
When you're selecting paint-grade trim, you can choose among several options. My favorite material to work with is one that's dry and straight, and comes in long lengths. Sure, it's a bit more complicated than that, but it's an important idea to keep in mind.
The truth is that you'll most often be choosing among fingerjointed pine, poplar, or medium-density fiberboard (MDF). Each material has benefits and drawbacks worth considering. Whatever kind of trim you choose, make sure it's the best the lumberyard has to offer.
Any of these materials can come with problems like twist, warp, or internal stresses from having been stored for too long on a wet slab or on a basement floor. There is no material, regardless of quality, that compensates for stock that has been carelessly handled or improperly stored.
Finger-Jointed Pine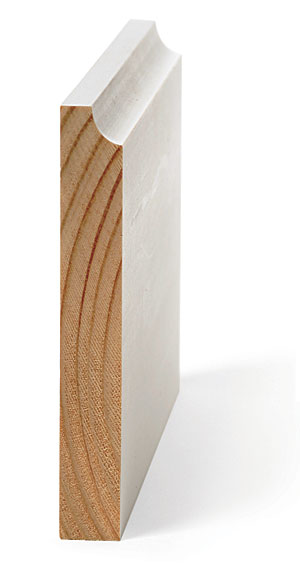 Finger-jointed pine is a common product used on many upper-end and midrange projects where cost is a concern. The intent of finger-jointing is to eliminate knots in the wood and to yield a straighter board for less money than clear stock. But not all finger-jointed trim is created equal. Keep an eye out for loose joints and joints that show through primer (finger-jointed pine is almost always sold primed). Misaligned joints are also a problem because they take a good bit of work to sand smooth. Most often, finger-jointed pine is used for door jambs and for door and window casing.
Cost per lin. ft.
5-1/4-in. base: 95¢ to $2.20
3-1/2-in. colonial casing: $1.20 to $2.30
3-5/8-in. colonial crown: $1.40 to $1.75
Poplar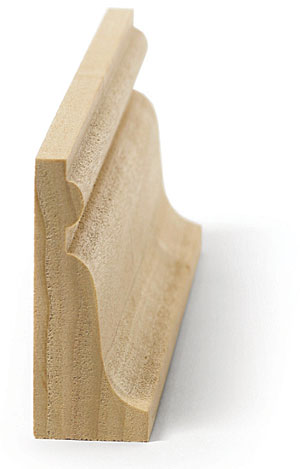 Poplar is a good choice for projects where a premium-quality painted finish is the goal. Also, poplar, which is actually a hardwood, is a bit more durable than pine, which makes it a better choice for applications that receive lots of traffic or abuse, like chair rail in a dining room or wainscoting in a mudroom. Poplar is also favored for its crisp, well-defined edges and profiles, so it's a good choice when intricate or built-up molding profiles are called for.
Cost per lin. ft.
5-1/4-in. base: $1 to $2.50
3-1/2-in. colonial casing: $1.15 to $2.40
3-5/8-in. colonial crown: $1.15 to $2
MDF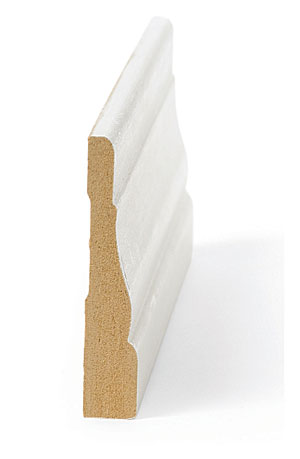 For a lot of trim carpenters, MDF is their least favorite material because it creates a large amount of fine airborne dust when being worked. However, I like the fact that it's typically available in long runs and doesn't have any visible joints. Another benefit is that it's more dimensionally stable than solid wood, so joints can be mitered instead of being coped. One major drawback is that the profiles on MDF trim tend not to be as crisp or as sharply defined as you would find with poplar or finger-jointed pine. Its edges are also relatively delicate, which is why it's typically reserved for use as crown molding, not window or door casing. Better MDF moldings typically come primed. Quality products have relatively smooth surfaces, while lower quality stock is relatively coarse and uneven.
Cost per lin. ft.
5-1/4-in. base: 65¢ to $1.60
3-1/2-in. colonial casing: $1.05 to $1.90
3-5/8-in. colonial crown: 90¢ to $1.90
Photos: Rodney Diaz