Design
Two Home Offices Double the Utility of a Bungalow
A new home for a young family includes two home offices under one familiar roof.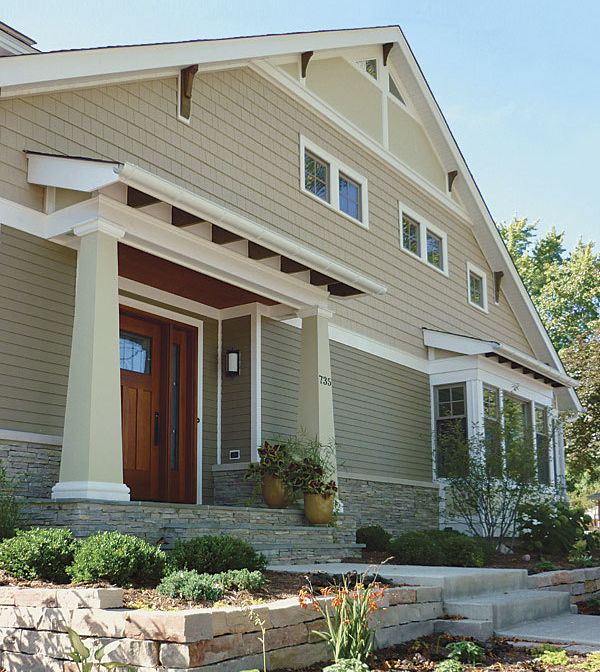 Synopsis: After author Kurt Skrudland and his wife found a house in suburban Chicago that fit all of their criteria for location, they learned that remodeling to accommodate their need for two home offices and their desire for energy efficiency would cost more than tearing down the house and starting new. When they came up with a plan for a new house on the same lot, they decided to keep the most compelling feature of the old house: It had a style they loved and that fit the context of the historic neighborhood. Fitting everything into the house that they wanted, however, meant that many areas would have to do double duty, such as the home office that is also a guest bedroom, and the mudroom and foyer that are shared by the formal front entrance and the garage entrance. Although Skrudland and his wife both work in their home, they have little interest in working on their home, so they used low-maintenance exterior materials where possible.
There aren't many vacant lots in the suburbs of Chicago, so it's not uncommon for clients to ask me to evaluate a property with an existing house as the site for a new home. Often, people are willing to tear down an old house as long as the property is in the right neighborhood. Still, I work hard to find a reason to remodel. It can be something as simple as a historic trim detail, a few rooms that can remain, or the irresistible character of the exterior.
It was no different when the day came for my wife and me to move out of Chicago proper. The right neighborhood and property were more important to us than the existing home. We wanted to be within walking distance of shops and restaurants, along the train line to the city, and on a corner lot with southern exposure and a yard. Given that our requirements for the house included three bedrooms, two home offices, a social kitchen and living space, and a great outdoor connection, I assumed we'd be remodeling. But that didn't turn out to be the case.
After a couple of years of looking, we found a house. Unfortunately, we couldn't justify remodeling. Everything was outdated, including the appliances and mechanical systems. Every room was too small and needed extensive work. There were no details that we felt compelled to save, and early estimates showed that we would spend less by tearing down the old house and starting new.
The old house did have one thing going for it, though: It had a style we loved and fit the context of the historic neighborhood. We kept that in mind as we designed our new home.
Similar shape — that's about it
In an area where teardowns are too often replaced with homes of disproportionate scale and style for the neighborhood, we were adamant that we wouldn't do that. Working with the lines of the original house and incorporating Craftsman-style details allowed us to blend in to the neighborhood. But the long gable roof and broad shed dormer are where the similarities begin and end.
Once we established the shape and style of the house, we began to evaluate our needs for space. My wife and I both work from home, so we each needed an office. We wanted a master suite, a bedroom for our daughter, and a guest bedroom with its own bathroom. Both a formal entry and a functional mudroom entry were important to us, as was a casual, social living area with an adjacent outdoor space. The only way to get all this into the footprint the lot would allow meant asking most areas of the house to do double duty.
I grew up in an old house, and to this day, I watch my father work on it constantly. It is a labor of love for him, and I respect his work ethic. My wife and I, however, don't want to spend our free time working on our house, so low maintenance was a priority. Unfortunately, low-maintenance materials are not always the most affordable. We tried to use durable exterior finish materials as wisely as possible.
For more photos, drawings, and details, click the View PDF button below:
View PDF