Pickup-Truck Storage Tray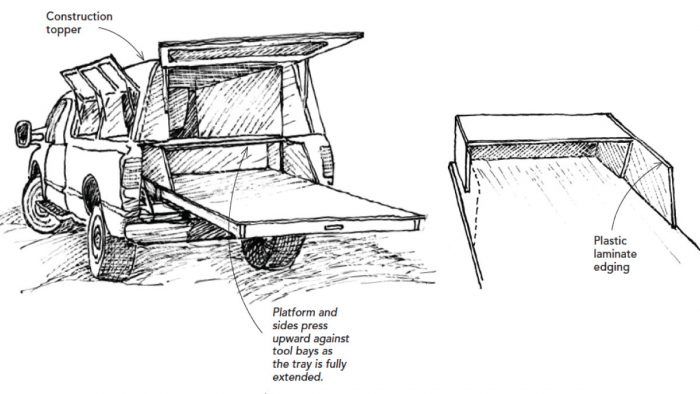 I have a construction topper on my truck, and I wanted to add an inexpensive sliding platform to the bed for easy access to assorted tools and materials. I looked into commercial slide-extension units and liked everything about them except the price, so I built my own.
As shown in the drawings, I made a 4-ft. by 8-ft. tray out of 2×4 stringers and a 3/4-in. MDF top. It's constrained by an MDF bottom with 2×4 sides. Both tray and bottom are screwed and glued for a sturdy build.
A 1/2-in. gap on each side between the tray and the 2×4 sides limits binding. The tray rolls on 20 heavy-duty 4-in. casters spaced evenly next to each stringer and affixed with screws and construction adhesive.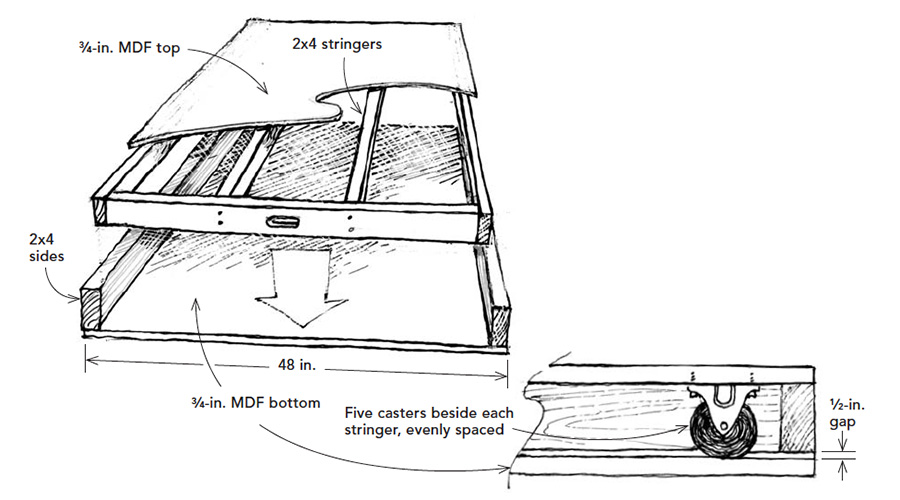 I screwed a piece of 3/4-in. plywood to the top of the open tailgate to bring it into plane with the tray bottom. As the tray is extended, its upward travel is constrained by a raised platform and partial sides at the back as they bear against the underside of the topper's tool bays. I can extend the tray a bit over 5 ft. beyond the tailgate.
I added a barrel-bolt latch to keep the tray from sliding open on an incline, but friction alone is a mighty strong force to keep the tray where I put it. In fact, the biggest drawback is that it can be tough to open or close the tray when the truck isn't parked level.
Because the tray takes up so much room, I was not sure if I had made a mistake at first. But after several months I came up with an efficient packing system, and now I would not be without it.
Gregory Bowden, Cincinnati, OH
Edited and Illustrated by Charles Miller
From Fine Homebuilding #212