Dewalt's slim, balanced approach to 12v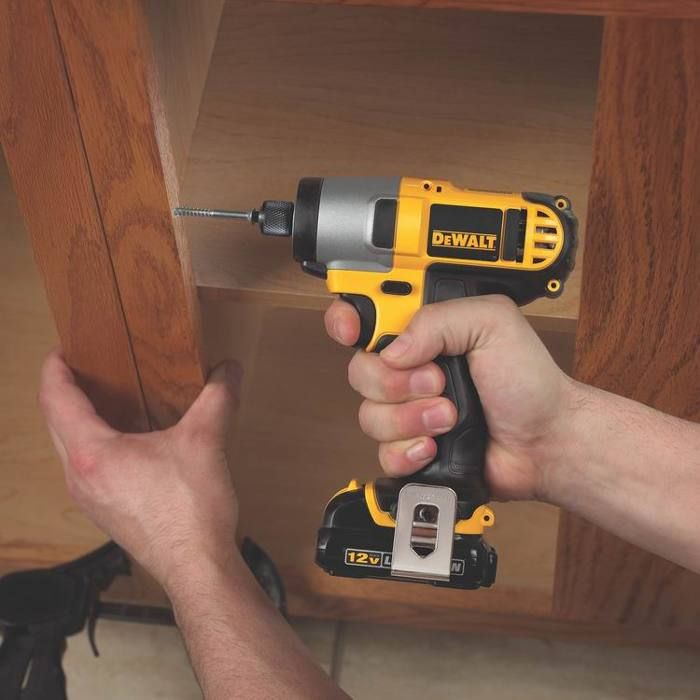 12v Li-ion tools are quickly gaining in popularity and sales. When you look at the chain of events, it's not hard to see why. Here's a brief and simplistic timeline:
Several years ago nickel-based batteries gave way to lighter more powerful Li-ion technology. Suddenly toolmakers were able to pack 3x the voltage into the same size pack, with no weight penalty.
Tools came in all over the voltage spectrum, but it was Bosch that pioneered the low-voltage end of the spectrum with their 10.8v driver.
Yesterday, nearly 4 years after the first tools in this category hit the streets, DeWalt unveiled their 12v Max line of drills, drivers, and inspection tools.
I know what you're thinking…
"Oh great, now I have my choice of the same drill in blue, white, orange, red and yellow."
I thought the same thing, but the DeWalt is a fresh take. It's obvious just from looking at the shape of the tools…
I haven't had the opportunity to drive more than a few screws with the new tools, but here's my take based on what I know so far:
What they got right:
Battery configuration – Rather than orienting the trio of 3.6v cells vertically and sliding the pack into the handle of the tools, DeWalt laid them horizontal. This means a flat-bottomed tool (read: it stands up) that feels more balanced (read: it ain't top heavy).
Comfort – Arranging the batteries horizontally allowed the DeWalt industrial designers to create a hand grip that was much skinner and more ergonomically suited for a human hand (read: it's comfy to hold). Hitachi also took this approach, but because their batteries are stick-style (they have a post that slides into the handle of the tool) the handle is still fairly fat.
One-handed chuck – DeWalt's engineers figured out how to make a one-handed chuck, which allows bits to be chucked into the tool without pulling back on the knurled collar.
Belt hook – The folks in the yellow shirts didn't make too much fuss about the hooks, but I thought they were cool because they can be used to hang the tool from a regular belt, but they also have an angled section that allows the tool to hang from a screw or nailhead
What they got wrong:
More than a little late – According to the last numbers I saw, DeWalt was the market leader in cordless tools. It's not reassuring to see the company in 1st place take so long to come to market with a competitive 12v line of tools, especially when Bosch is already well into their 2nd generation.
Price – I'm hesitant to say this was something that DeWalt got "wrong", because price shouldn't be judged before the tool is thoroughly tested, and a $10 difference between DeWalt and the nearest price competitor (Bosch) isn't too big of a deal. Still, I would be remiss not to mention the dollar-difference in times like these.
Watch for a full review of these tools when we receive samples. For more on Li-Ion technology, read
DeWalt DCD710S2 12v Max Drill/Driver $160
DeWalt DCF610S2 12v Max screwdriver $140
DeWalt DCF815S2 12v Max Impact Driver $160