Return of Some Classic Hand Tools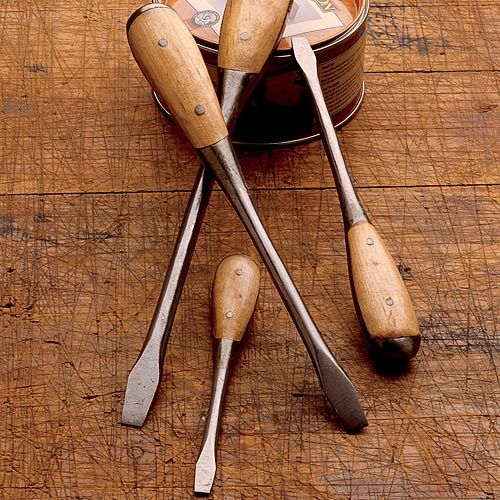 Just like a old leather tool belt or worn pair of double-knee Carhartts, there's a certain romance to classic hand tools. I was flipping through the latest Garrett Wade catalog and decided it would be fun to share a few of my favorite tools that really capture that vintage feel. All photos are straight from Garrett Wade.
Universal Screw Starter – Installing a boat-load of hinges on custom kitchen cabinets is a pain in the neck. Drawer slides are even worse. Similar in size and shape to a philips screwdriver, this old fashioned $11 screw starter used to be the go-to tool for breaking the surface of wood to make setting screws easier, now it's back as a tempting alternative to a full size drill.
Extra H.D. Slot Screwdrivers – When was the last time you took "regular strength" ibuprofen after humping sheets of drywall all day? Yeah, I can't remember either. We live in a maximum strength, all-purpose, heavy-duty world. These screwdrivers, which used to be standard issue on U.S. Army tanks, look like they'd be equally at home popping the lid off a gallon of paint as they would prying my truck out of the mud at the town dump (well, if they were a little longer, maybe). Set of four sells for $30.
Western Log Saw – If my luck with chainsaw maintenance doesn't improve, I may consider trading the noise and headache of a powersaw for the pleasure of this 28-in. throwback.  The folks at Garrett Wade claim the tool is equally at home in wet and dry wood, and the large teeth (4 tpi) don't clog during use. Heck, it would even look good over my mantel.