Design
Smart Choices in Bathroom Flooring
Tile is still the traditional choice, but it's not the only floor that performs in this wet environment.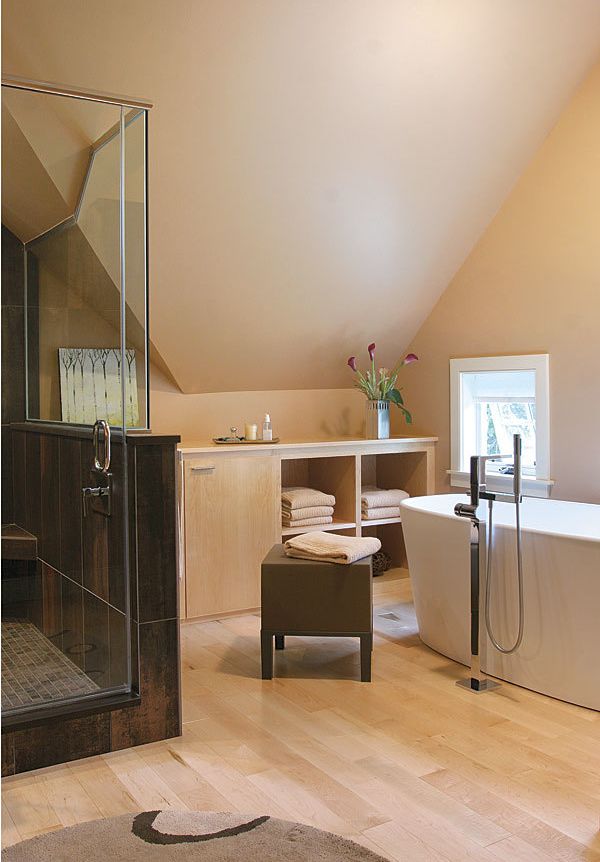 Synopsis: A bathroom floor should be stylish, durable, and comfortable. But it also must be able to handle moisture and humidity from daily use as well as any possible leaks that could occur in the future. Contributing writer Matthew Teague profiles seven flooring options for bathrooms: wood, tile, linoleum, cork, rubber, vinyl, and concrete. He discusses their characteristics, installation, costs, and how they respond to moisture and humidity. As the most popular flooring option, tile gets the most in-depth treatment, including a discussion of grout and a list of potential problems with tile-floor installation. But Teague also discusses in detail the circumstances under which a wood floor can work in a bathroom. A sidebar describes electric, in-floor heating systems that can be used with a wide range of flooring systems.
---
Bathroom floors come with their own particular set of requirements. Like any floor, they should be chosen with style, durability, and comfort in mind. But a bathroom floor also must be able to handle moisture and humidity from daily use as well as any possible leaks that could occur in the future.
That said, not all bathrooms are created equal. While the family bath may have to endure splashing toddlers in the tub, you can use a master bath more responsibly, wiping up small spills as they occur. A guest bath or half-bath may be even less threatened by water. The less use your bathroom sees and the fewer fixtures it houses, the more options you have for bathroom flooring.
Choosing a bathroom floor that can handle the required amount of water is the first hurdle. You can expect a certain amount of water all the time drips as you get out of the shower or puddles from the occasional overspray, for instance. Those minor mishaps are easily wiped up, but it's the months or years of that small bead of water dripping around a shower door or condensation running down the side of the toilet that is more likely to cause trouble. Also, because the bathroom has more plumbing than any other room in the house, it's the place most likely to spring a leak. Just hope it doesn't happen while you're on vacation.
In addition to the water you see, there's also the water you can't see: humidity, which affects some floors more than others. While a vent fan helps, you have to make sure that everyone turns it on. You also can wire it through a timer to run for a while after you leave the room.
Remember that all bathroom floors should be well-sealed and maintained, but that some require more work than others. Also, it's entirely possible that those splashing toddlers will turn into sloppy teenagers.
Tile offers sensible style
Tile is likely the first option that comes to mind when you think of bathroom flooring, and for good reason it's the most popular. Made of clay and other non metallic minerals shaped, pressed, and fired at high temperatures to create a hard surface, tile can handle water and comes in an almost endless variety of styles. You can choose from ceramic, porcelain, natural stone, or, in small doses, even glass. On the downside, tile is tough on your legs and back. In a room where you're often barefoot, it's also cold. It might feel nice on the Texas coast, but it is less than ideal for Maine winters. That said, adding radiant in-floor heat to a bathroom floor tile or otherwise is now easier than ever.
The important factors to consider when shopping for bathroom floor tile are water porosity and slip resistance.
For more photos and details on the smart choices for bathroom flooring, click the View PDF button below. 
View PDF