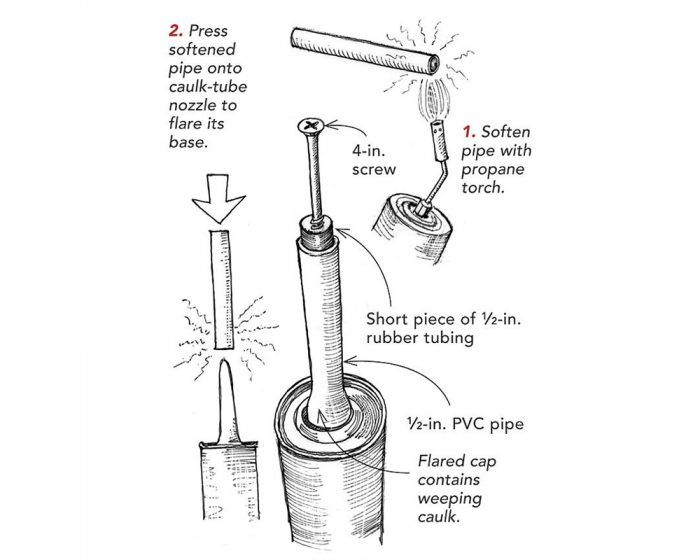 One of the most stubborn caulk-tube problems is trying to minimize the mess made by asphalt caulk. Also known as blackjack, this oil-based caulk keeps oozing out of the nozzle, even after the plunger has been released. It sticks to everything.
To control the problem, I use the cap shown in the drawing above. The cap helps to put the goo back in the tube while also containing the stuff that does escape.
The cap consists of a piece of PVC water pipe, a short length of 1/2-in. rubber tubing, and a 4-in. screw. To make the cap, I heat one end of the water pipe with a torch or a heat gun in a well-ventilated area. The goal is to get the plastic pliable enough to change its shape. It will likely take a little experimenting to get the heat level right.
Once the pipe is pliable, I push it onto an unopened caulk-tube nozzle to flare the heated end. Next, I shove a 1/2-in.-long piece of 1/2-in. rubber tubing in the other end. Its inside diameter should be tight enough to allow a 4-in. screw to be threaded in and out. The screw should extend past the tube far enough to plug the open nozzle.
This cap works well enough that we've stopped carrying a roll of paper towels with us when we need to use blackjack on a roof.
Don Mathis, Macomb, IL