Tools & Materials
Bosch PB360S Radio
The PB360S has lots of ways to hook up audio components: a pair of auxiliary inputs, a USB port for flash drives, and a slot for an SD/MMC memory card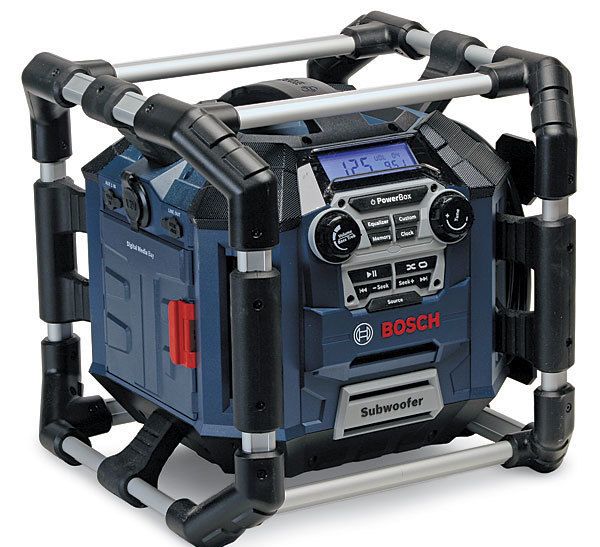 Feature
This radio had, far and away, the best audio quality. The box-shaped setup has a speaker on each upper corner and a subwoofer built into the bottom that provides nice bass response—especially when set on a hardwood floor. The radio has more memory presets and controls than other models, but manages to remain fairly intuitive to operate. The PB360S also has lots of ways to hook up audio components: a pair of auxiliary inputs, a USB port for flash drives, and a slot for an SD/MMC memory card. This radio was the most impressive in terms of durability. Not only did it survive the drop tests without any breakage, but the radio kept playing through all nine drops.
Flaw
The major trade-off for all the features mentioned above is that this radio is nearly 10 lb. heavier than the next-heaviest model and is about as comfortable to transport as a bucket of heavyweight joint compound. The latches are fussy to operate, and the battery pack fits very tightly in the compartment, which may be issues for those with big hands and thick fingers. Although it showed excellent resistance to dust and water, this radio has more exterior nooks and crannies than any other model, which made it tedious to clean. We also accidentally sucked up the foam pads on the receptacle covers during cleaning.
Bottom Line
If you don't mind paying top dollar for high-quality audio in a seemingly bombproof package, this is the radio for you. The only weak points on this model are that it's heavy and awkward to carry, and that its complicated design and soft rubber components make it tough to keep clean. Bosch also makes a deluxe version of this radio (PB360D, $250)—which includes a satellite-radio dock, an upgrade from standard to GFCI outlets, and a remote control—but it wasn't released in time for our review.