Design
Sliding Shutters for a Cold Climate
This modern approach to traditional storm windows offers better air-sealing and thermal insulation.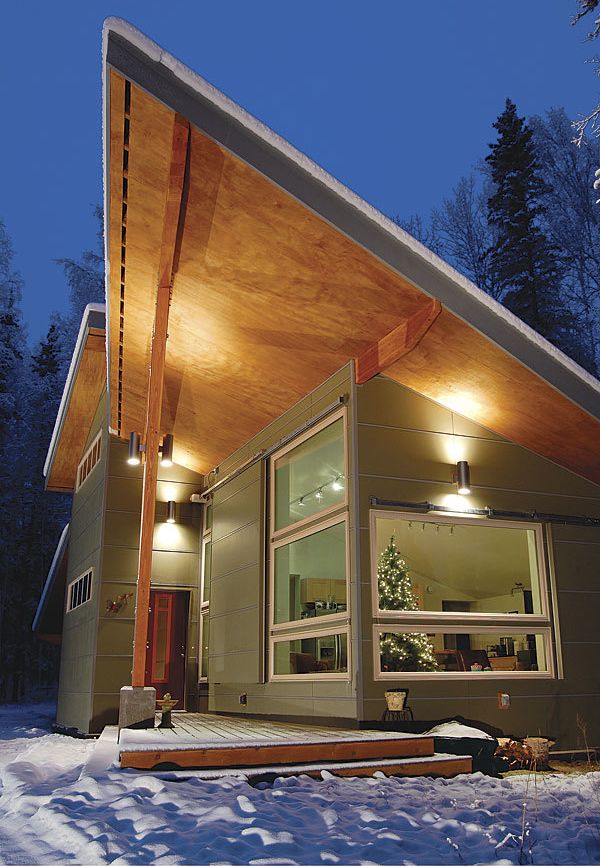 Synopsis: In a climate as harsh as Alaska's, energy efficiency is paramount. Creating a tight building envelope is manageable, but even with the best technology, windows remain a weak spot. When Fairbanks-based Pat Farrell was building his own house, he wanted windows and warmth. Farrell managed that by building a couple of deeply insulated sliding shutters. Operated by remote control, the shutters open in the morning to allow light and radiant heat to enter the house. In the evening, the insulated shutters are closed, helping to retain the day's heat gain.
Building energy-efficient houses in Fairbanks, Alaska, the United States's northernmost city, is no easy task. As the bar for energy efficiency is set higher and higher, any weaknesses in the thermal envelope become more apparent. In a house with a tight building envelope, walls performing at R-30, and a roof at R-60, I've found windows to be one such weakness.
On the house shown in this article, I installed low-e, argon-filled, triple-pane, Energy Star-rated windows. All that window technology adds up to a thermal value of only about R-5; that's a big weak spot. Herein lies the conflict: We crave natural light, but when we include windows, we pay for them constantly in terms of our heating bills.
Just as hybrid cars employ internal-combustion engines only when they are needed, I decided to use the windows only when they were needed for light and thermal gain. To that end, I built insulated shutters out of framing lumber and rigid foam. All told, the parts cost about $500 for each shutter, and both were assembled on site. Self-sealing geometry and perimeter brushes are the keys to their operation. Now, when the sun sets, I can push a button to cover 128 sq. ft. of glass with insulated sliding shutters.
For more photos, drawings, and details, click the View PDF button below:
View PDF