Weighing the Confidence Factor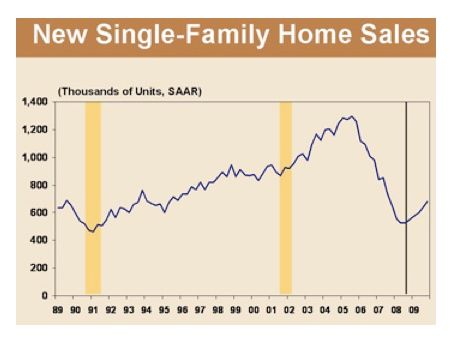 On Thursday, CNBC "Realty Check" columnist Diana Olick noted that the National Association of Home Builders' response to the 5.5% month-to-month lift in new-home sales for November was lukewarm, in no small part because it was barely a bounce off the bottom. Sales volume was a measly, seasonally adjusted annual rate of 290,000 units.
Even though other Commerce Department figures show upticks for single-family permits and starts, and better control over inventory (now at an 8.2-month supply, significantly lower than it was nine months ago), builder confidence remains flat. And NABH's chairman, Bob Jones, said that lack of credit – an issue the association has targeted repeatedly for the past 18 months – remains an ongoing concern. Olick points out, though, that as relentless as the credit crunch, short-sales, and foreclosure-related oversupply problems have been, housing's best hope at this point may be in the intangible known as consumer confidence.
"I continue to believe that while we can argue 'til we're blue about credit, government incentives, fraud, and blame, the fate of the housing market lies in confidence," she wrote. "The minute Americans see a real reason for hope, a lift from the bottom—and a potential for profit— housing will come roaring back."
Optimism for the broader economy
As has been noted by industry analysts, housing will be a follower rather than a leader in an economic recovery. But a coattails recovery in housing is better than limping along indefinitely. And cheerleaders for the recovery driver touted by Olick – consumer confidence – also were among the sources in a New York Times feature published this week headlined "Experts Citing Rising Hopes for Recovery in Coming Year."
Phillip Swagel, chief Treasury Department economist under George W. Bush, Austan Goolsbee, current chairman of the Obama administration's Council of Economic Advisers, Moody's Economy.com forecaster Mark Zandi, and Goldman Sachs' chief U.S. economist, Jan Hatzius, weighed in with observations that hew to the optimistic, including predictions that peg annualized growth in gross domestic product for most of 2011 at about 4%, up from about 2.75% for 2010.
The analysts of course raised a number of caution flags as well, particularly regarding the prospects of further economic trouble in Europe and the likelihood that unemployment will remain stubbornly high, since it, along with housing in this case, will probably be among the latter sectors to climb to recovery. Still, a number of indicators are aligned to move things in a positive direction, including the Federal Reserve's $600 billion bond-buying program (although that will end in the middle of next year) and, perhaps more important, the administration's $858 billion tax-cut compromise, which, with its tax incentives for business investment, led many forecasters to revise their economic growth estimates upward.