Mid-Winter sale? …What a bust.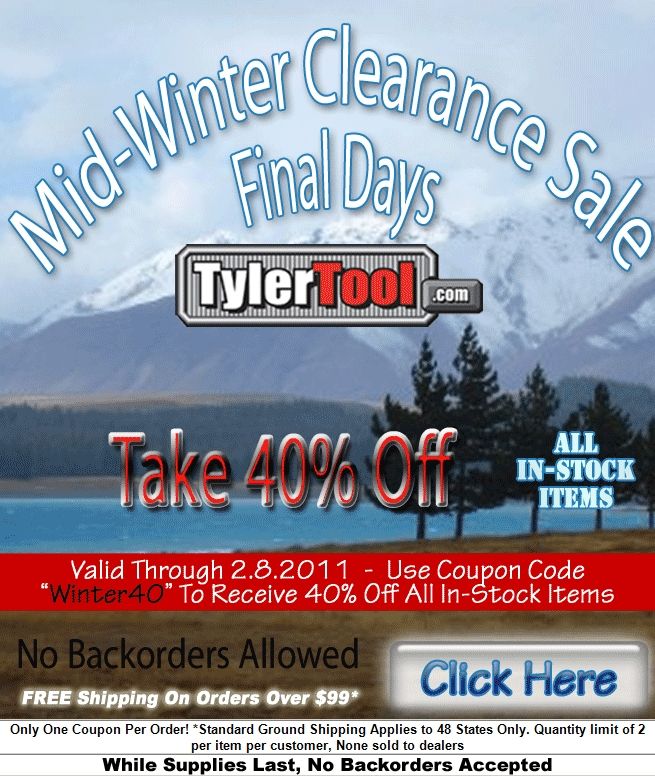 I get email newletters from several tool manufacturers and retailers in my inbox each week. In some ways it's like a gambling addict working behind the counter at a lottery store, and I end up buying things I really shouldn't buy before paying my mortgage each month, but I digress from my point.
The deals don't have to be major, we all know that even 5% or 10% off of a tool that you want to buy can make a big difference in the bottom line. Well, recently I've been getting emails from Tyler Tool about their "Mid Winter Clearance" event. 40% off any in-stock item. SWEET!
I'm always in the market for a few new tools, so I click on the email link with my mental list ready to go.
– Benchdog Router Lift – on backorder
– Dewalt Portable Thickness Planer – on backorder
– Festool C12 – on backorder
– Delta Dust Collector – on backorder
– Paslode 16 ga. Cordless Nailer – on backorder
…are we seeing a trend here?
At this point in my shopping experience I begin just clicking on anything I can find to see whether Tyler Tool actually has anything in-stock. Is this place going out of business and cleaning house or something?
How about this: instead of tickling my tool addiction with repeated emails about getting 40% off all in-stock items, and then making me search for 15 minutes to even find something that is in-stock, maybe just send an email with the few dozen items that are in-stock.
I'm annoyed enough to unsubscribe from Tyler Tool.